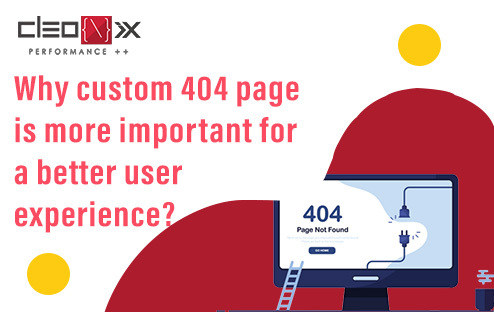 When you use the internet and surf between websites, at some point or the other, you will come across a page which will display the message – "Sorry, page not found". This particular page is called the 404 error page. According to google :
"a 404 page is what a user sees when they try to reach a non-existent page on your site (because they've clicked on a broken link, the page has been deleted or they've mistyped a URL)."
So, when a person clicks on a broken link or tries to enter a page that has been deleted or makes a mistake of typing a wrong URL, that's when a 404 page appears as there is nowhere else to go.
404 error pages are generally frustrating to the visitors but if it is used correctly it can help not only to retain visitors but keep them on your website and pursue them to check out other sections of your website even if they had landed on the error page which is why custom 404 pages are very important for a better user experience.
Features to Include
Some basic features that your custom 404 page needs to include for making it more attractive are :-
• NAVIGATION –
This is first and most important aspect of a custom 404 page. Landing on an empty or a stagnate page with just the error message displaying can be highly irritating and frustrating. You need to at least customize it so that your 404 page has a redirection link to your homepage or a search option through which visitors can search what they are looking for. Many custom 404 pages goes beyond and offers additional links to other contents within the website. Some even offer a 'report filling' section through which visitors can report about the error or 'chatbox' which can help visitors to find what they are looking for. This way any visitor who lands your error page will keep on engaging with your website and you will not lose the traffic.
• TONE –
The overall tonality of your 404 error page should sync with your website. This means the theme, colour, design and feel of your error page should match with your website. You can add images and logos of your website to the error page, giving it an attractive look. Some error pages even features the whole menu section of the website giving the page an overall same look as the main site.
• CREATIVITY –
Technically, there is no limit to how much creative you can get with your custom 404 page. You can add jokes, quirky quotes, and other interesting and fun elements. In the end, you just need to be creative so that when your visitor land on a error page, they are a bit entertained before they are redirected.
Importance of Custom 404
Custom 404 pages help to enhance the user experience. Basic 404 pages are boring and does not help in anyway. If a visitor lands on your default 404 page, he/she will be simply confused and would want to quickly get out of there meaning you will lose web traffic. A custom 404 page does the opposite. It helps to retain the visitors and web traffic. You can customise your page in ways which can help to take the confusion away. Perhaps, someone typed in the wrong address, or may be the page they are looking for does not exist anymore. Your custom 404 pages can help visitors to understand the problem by displaying the reason.
Another way in which custom 404 helps visitor is by redirecting them to what they were looking for or other relevant topics. When your 404 page feature links which redirects visitors to other contents in your website, visitors may halt and check them out. This way you don't lose any web traffic. And if your error page is quirky and interesting enough, visitors might even share them which will attract more users and web traffic as a result.
Ultimately, it needs to be said that with today's competitive online market and SEO up rise, you can not just ignore the importance of a custom 404 page. Even if you have a high quality website with intricate developmental details, you can not guaranty that your visitors won't ever face the 404 error page which is why you need to have a solid custom 404 page.
Also Read: How to Create An Attractive Landing Page to Increase Sales