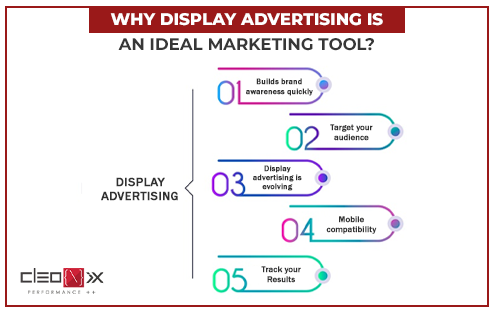 Your competitors are always trying to get the edge over your business which is why you need to consider a wide range of marketing strategies so you can keep up. Display advertising is an easy way to improve your brand's visibility which can lead to valuable conversions. As a marketing agency in Kolkata, Cleonix Technologies has seen awesome results when display advertising is used right. Let's take a look at why display advertising is a useful addition to your marketing arsenal.
Builds brand awareness quickly
One of the biggest advantages of display advertising is that it builds brand awareness quickly for your business. More exposure means that customers become familiar with your brand without even realizing it so when they decide that they're interested in making a purchase or inquiry, they think of your business first. Never underestimate the impact of frequent exposure of your brand on potential customers.
Target your audience
The targeting options available with display advertising means that you can zero in on your target audience. You can target users who have visited your website previously, have your ads appear alongside relevant content, focus on your customer demographic, or target certain keywords. You can also opt out of appearing alongside certain websites which may not be appropriate for your brand. The fact you have such a big range of targeting options means a much more streamlined campaign.
Display advertising is evolving
Although banner ads are still a major player in display advertising and are still proving to be effective, display ads are evolving along with everything else in the digital landscape. Animation, audio, and video can now be incorporated into display ads, along with the traditional banner style. This means you can play around with the format of your display ads to find a style that gives the best results for your business.
Mobile compatibility
Once upon a time, display advertising may have looked a bit clumsy on mobile devices but these days ads are incorporated seamlessly into the mobile experience which allows you to tap into a huge user group who spend hours each day scrolling through devices. Display ads also rely heavily on the use of images which is perfect for capturing the attention of the mobile audience – after all, you want something that will stop a potential customer mid-scroll.
Track your results
Once you get going with your display advertising campaign, there's really only one thing you want to know – is it working? Luckily, the success of your campaign can be easily monitored through easy to follow analytics which can tell you valuable information such as how many times your ad has been clicked. Access to this data means you can adjust your campaign as necessary to get the best results for your business.
Cleonix Technologies is a web development company in Kolkata specializing in all digital marketing techniques. We work with businesses of all shapes and sizes to create an awesome digital marketing strategy to really give you the edge. If you think it's time that your business stood out from the crowd, we can help you get started!