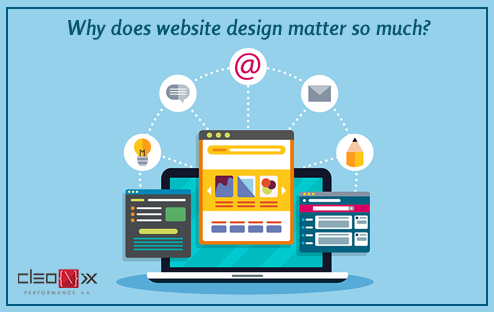 You may have heard that design is important to a website that never really understands it. However, web design is one of the most significant variables determining how popular a website is or how successful it is. This has been noted and in recent years has resulted in the increase of web development businesses. The two most significant aspects of a successful website are content and web design. Don't still know or think how significant website design is? Let's clarify.
Why is that important?
Just because the functionality of a website doesn't mean it can't be lovely too. A website can be functional as well as appealing. This is why designing the website is so essential:
1. It sets the first impression:
When your audience visits your website, the first impression of your company is given to them. Within seconds, they will judge your company. You want to have a favorable effect on your crowd in these first few seconds.
If your website looks unattractive or obsolete, your audience will have an adverse feeling of your company instantly. They're not going to find your website attractive, deterring them from your page. You're going to miss out on leads as they're going to leave your website for the website of a competitor.
Web design is essential because it affects the perception of your brand by your audience. You can either create an impression on them to stay on your page and learn about your company or leave your site and switch to a rival. A nice web design enables you to stay on your website with your leads.
2. Brand Consistency:
If your company has a logo and that logo is frequently used in print products (e.g. business cards, brochures, letterheads, etc.), then the logo, logo/brand colors, brand messaging and imagery used for printing must be transferred to the design of the website. It is essential that your clients acknowledge your brand in all types of communication so that they can associate your brand position with your company and promise it. It can often cause clients to feel uneasy when visual communication changes with a brand, which can lead them to develop an adverse connection with your business.
3. Trust:
It's extremely important to build trust among your customers, but it won't occur unless you get to understand them and what they value. Marketing strategies can function as a dialog with prospective clients, a good way to learn more about the requirements of your clients. You can introduce what resonates favorably with them in your fresh design by enhancing dialog with clients. By making your website look more welcoming and trustworthy to tourists, you will see increased traffic to your website, and website transformation leads to an enhancement in the new company.
Cleonix Technologies is a website development company in Kolkata that provides a broad variety of online marketing services and website design . Some of the other services the business offers are SEO & PPC marketing, online reputation management, and content development.