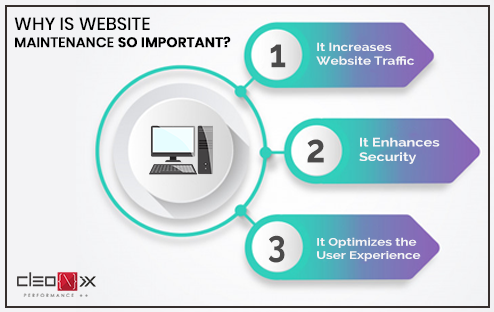 In today's digital era, every person is well aware of the significance of having a coherent website. However, just getting a website created and making it functional is not sufficient. Opting for website maintenance is vital to making sure that it is functioning at full capacity. Here are 3 key reasons to maintain your website.
It Increases Website Traffic
With the intention of offering searchers the top quality content, search engines like Google improve rankings for the websites that are updated on a regular basis. A higher ranking boosts the visibility of your site that further augments the probability that your content comes into view when the target audience searches for related keywords or phrases.
Keeping the website up to date with helpful information, getting rid of duplicate pages, fixing broken links, and keeping the content the latest will help drive both fresh as well as returning visitors.
It Enhances Security
Security is one of the core reasons why website maintenance is regarded so significant. If your business is making use of CMS (Content Management System) like WordPress or Drupal, you will wish to make sure that your site is keeping pace with security updates and software patches. Failing to do so offers hackers the opportunity to whip information from your website.
You may like: Best Reasons Why Monitoring Web Performance Matters
It Optimizes the User Experience
Updating the website on a regular basis with shareable content like blogs, image galleries, and forthcoming events provides your potential clients with an idea regarding what your business is all about and what are your offerings. Incorporating actionable items like social media icons that link to your business profile on various platforms and a newsletter sign up form will help to get engaged with the target audience efficiently.
A regularly updated site helps promote the brand, work, and mission. Get rid of the information that is obsolete and carry out a website audit in order to find out and address concerns and errors on your website. Performing this often will definitely help to deliver every website visitor the best possible user experience.
Hiring a specialist for site maintenance is very important, regardless of the kind of scale of business you are engaged in. Getting your site updated after regular intervals will not only improve its performance and offer a safe and secure environment for your target audience but will also prove to be a powerful tool to meet your business goals efficiently.