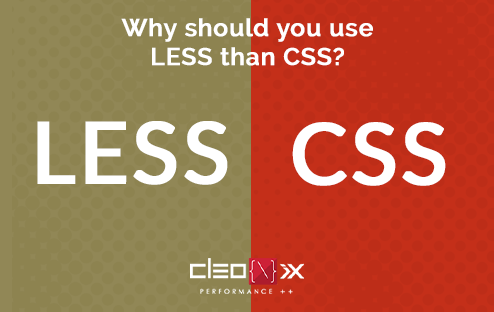 Less is a dynamic sheet language of the preprocessor style that can be compiled into Cascading Style Sheets and run on the side of the client or server. Designed by Alexis Sellier, Less is affected by Sass and influenced Sass's new "SCSS" syntax, adapting its CSS-like block formatting syntax. LESS CSS preprocessor provides a wide range of characteristics including variables, nesting, mixing, operator and functionality. These robust characteristics enable web designers/developers to produce easy-to-customize, retain and extend Cascading Style Sheets (CSS).
Advantages of using LESS:
LESS preprocessor provides extra benefits over traditional CSS by offering extra syntax to assist web designers/developers to decrease repetitive coding. LESS preprocessor is much more like a programming language than standard CSS. In nature, LESS is highly dynamic, so don't be surprised if you find some programming terminologies like variables, operation, scope, etc.
1. Less is a pre-processor CSS and it produces easy CSS that operates across the browser after compilation.
2. Less is quicker and simpler.
3. Because of Nesting, cleaner structure.
4. Less codes compared to CSS are easy and well structured.
5. Less supports cross-browser compatibility.
Why LESS Preprocessor?
Although various CSS preprocessors are accessible on the market, most web designers/developers prefer to use LESS because it enables real-time compilation using a normal web browser via LESS.js.
A comparative analysis of CSS and LESS is essential to understand the importance and functionality of the LESS CSS preprocessor. Let's start by exploring some of LESS' impressive characteristics:
Variables
CSS
A significant drawback in CSS is that we are unable to define any variables that limit reusability.
LESS Preprocessor
LESS CSS preprocessor, however, allows variables to be reused throughout a style sheet (once defined at the beginning of a file), saving considerable time and reducing the amount of coding.
Common Style Rules
CSS
There are some prevalent characteristics in CSS such as boundary thickness, colors and other appearances a web designer/developer wants to use on various occasions. A significant drawback in CSS is that designers/developers are unable to identify prevalent style guidelines and reuse them.
LESS Preprocessor
While classes and items can be described and reused (on various occasions) throughout the style sheets in LESS. Any internet designer/developer would like to reuse common rules of style as they save significant time and reduce duplication of code.
Calculations
CSS
There is no integrated feature available to conduct on – the-go calculations.
LESS Preprocessor
LESS CSS preprocessor, however, provides features for performing mathematical calculations or other calculations based on a designer / developer's requirements.
By evaluating the above benefits, we can conclude that many constraints arising from CSS use can be transcended by using the LESS CSS preprocessor. LESS preprocessor has recently acquired a lot of ground and is becoming a highly common designer/developer option. The way websites are constructed and maintained will definitely alter, it has certainly decreased a lot of manual effort needed to keep websites.