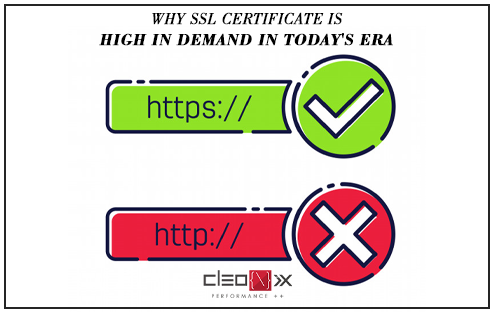 In today's era, Secure Socket Layer is in high demand because it is one of the most important tools for maintaining a secure internet connection. SSL Certificate ensures privacy by encrypting messages and a network connection between a web browser and web servers. An SSL Certificate is a virtual document with information about a website owner that serves to verify the owner's connection to the website in question. Only truly secure web servers have access to the keys for decryption, in turn ensuring that information is kept private.
When a web browser attempts to connect a to a website secured with SSL, the browser first requests that the web server identify itself by providing its SSL Certificate. The browser that determines whether the server is trusted before allowing the transfer of any information. Next, a public key is provided to the server that can only be decrypted if it is really safe. The browser and web server may exchange data privately and securely once the SSL encrypted session has started.
SSL encrypts data that has been exchanged over the Internet so that only the verified server with the decryption key can access the user's information. Private information such as name, address, phone number, emails, bank account number, credit card information, and passwords are all kept safe. If a hacker were to intercept any of this information, SSL encryption would make it virtually impossible for him to make sense of it. The hacker would come across the encrypted data, which are meaningless without the encryption code possessed only by the certified server. This promise of security is crucial for the online user and explains why SSL security is so highly valued. Users are never going to share private information if they fear it is vulnerable to hacking the theft. It is in the best of interest of web servers to purchase SSL Certificates if they wish to remain competitive with other servers who maintain the maximal internet security.
Online users want SSL Certificates because they serve as a virtual certification that online data exchange and personal information is safe. With the complex encryption involved in SSL, a web browser can share any data with a web server with certainty that is secure from encryption.
Why is SSL Certificate being Essential?
Google Ranking: Back in 2014, Google reported that HTTPS sites rank higher than HTTP sites in Google ranking. This is on because of HTTPS website are viewed as more reliable. Adding an SSL Certificate to your website can enhance your Google rank and influence your business to look more believable.
Security: Without SSL Certificate your website and business will be more helpless against assaults and malware. If you store data like username, passwords or credit card number, you should use a certificate or another type of encryption.
Expanded Deals: If a client arrives at an HTTP site, their browser may tell them the website is not secure, which will urge them to buy somewhere else. An SSL Certificate is likewise required for sites to acknowledge charge card installments as per Payment Card Industry benchmarks.
Hope, you found this blog really helpful. Keep supporting to get more such awesome contents.
Cleonix technologies, one of the best web development company in Kolkata is now offering SSL Certificates at a very affordable price point with dedicated 24*7 Live Support.