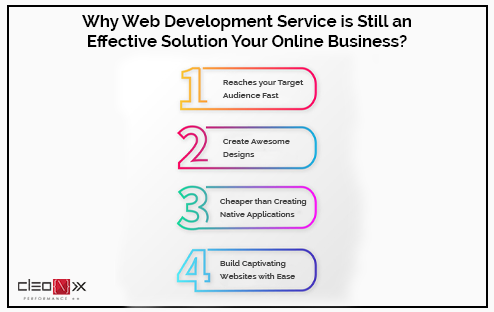 With increasing competition, keeping your business on the top in this digital world can be tough. The great way to stay ahead of your competitors is by making sure that you are reaping the benefits of all the luxuries of the modern era. The Internet plays a big role in the success of your business. Nowadays, you will find endless ways to promote your business online, i.e., from native apps to eye-catchy websites. The Top Web Development Companies in India creates the professional looking sites to enhance the traffic towards your site. They mainly prefer to use Web development over native application because it is the smoother and effective path to building a good application.
Reaches your Target Audience Fast
The high-performance sites can help the online business owners to target the wide audience unlike the limitations to a platform that restricts the native apps. The customers and clients can get the services or products they want from the computer, mobiles, or any other device.
On the other hand, to access the native apps, the users need to open the play store on their devices, thus creating one more step towards obtaining the details. In simple words, it means that the user needs to look out for the app instead of just entering the URL and using it. The distribution of content is more beautiful and flexible with web development because there are no content restrictions and app store requirements to follow. The use of white-hat SEO techniques has made web development successful in targeting the audience. The major search engines fail to access the close environments of apps, thus making it less superior in comparison to web development.
Create Awesome Designs
The presentation of your content poses a great impact on the user experience. The good one helps your customers explore your services and products more. Web development offers a universal solution to this issue via the use of technologies like CSS, HTML, and Javascript. The best Web Development Companies in India knows how to deal with cross-browser interfaces and accessibility.
Besides this, the web development frameworks, such as Bootstrap offers excellent browser compatibility. So you can say that regarding the presentation of the uniform design, web development is quite easy to manage and implement.
Cheaper than Creating Native Applications
A site is affordable in comparison to creating the native app. Instead of designing for the multiple platforms, maintaining one codebase on a site cost much less. There is also no initial barrier or entry-level fee for accessing the site content.
On the other hand, income from the native applications would need in-app purchases, purchase of the app itself, or platform-specific ads. So if people do not indulge in downloading your app, you will not get any returns. Also, the income gained from the app purchases is subject to marketplace charges (that can be as high as 30 percent).
Build Captivating Websites with Ease
The leading Web Development Companies in India use HTML, CSS, and Javascript to make effective and functional websites. Once your site is created with cross-browser support, it will be used on every device to reach the audience quickly. With the use of HTML5, the user can now access the camera and geo-location. However, in the native apps, the code must be written explicitly for every marketplace. It increases the need for vast resources like hardware and extra skills.
Cleonix Technologies is optimized and fastest growing IT organization which offers topnotch website design and development services in Kolkata. We have a standing 24 X 7 support system who take care of any queries or complains or report every time you need.