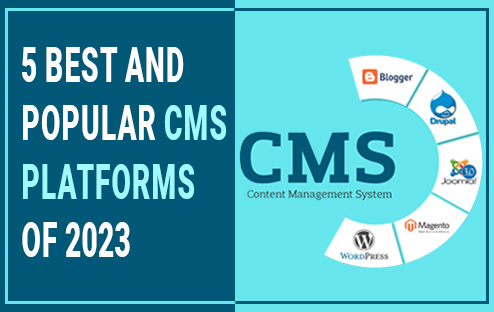 Content Management Systems (CMS) have become an essential part of the digital landscape, empowering businesses, organizations, and individuals to create, manage, and publish content online without the need for extensive technical knowledge. With the rapid evolution of technology and the increasing demand for efficient content management solutions, the CMS market has witnessed significant advancements in recent years. In 2023, several CMS platforms have emerged as the best and most popular choices for website owners and content creators. In this blog, we will explore the top five CMS platforms that are leading the pack in 2023.
1. WordPress:
WordPress has been the undisputed king of CMS platforms for years and continues to dominate the market in 2023. Its versatility, user-friendliness, and robust ecosystem of plugins and themes have made it the go-to choice for bloggers, small businesses, and large enterprises alike. With a wide range of customization options, WordPress allows users to create stunning websites for various purposes, from simple blogs to sophisticated e-commerce stores.
Moreover, the platform's extensive community support ensures that users can find solutions to any issues quickly. WordPress's regular updates and security features also make it a reliable and secure CMS choice.
2. Joomla:
Joomla holds a strong position as one of the most popular CMS platforms in 2023, thanks to its flexibility and scalability. While it may have a steeper learning curve compared to WordPress, Joomla offers powerful features suitable for building complex websites, including online magazines, e-commerce stores, and social networking sites.
Joomla's extensive library of extensions allows users to expand the functionality of their websites easily. The platform's dedication to security and performance enhancements further solidifies its position among the top CMS platforms in 2023.
3. Drupal:
Drupal, known for its robustness and flexibility, has earned its place as a favorite CMS platform for developers and large organizations. In 2023, it remains a top choice for building enterprise-level websites and applications that require complex data structures and advanced content workflows.
With its focus on performance, security, and scalability, Drupal is often chosen for government websites, educational institutions, and community-driven platforms. Additionally, Drupal's active community ensures continuous development and support.
4. Shopify:
For e-commerce enthusiasts and entrepreneurs, Shopify has become the leading CMS platform for building online stores in 2023. With its user-friendly interface and a plethora of customizable themes and apps, Shopify makes it easy for anyone to set up and manage a professional e-commerce website without extensive technical knowledge.
Shopify's robust e-commerce features, including secure payment gateways, inventory management, and shipping options, have attracted businesses of all sizes, making it a top choice for those looking to establish their online retail presence.
5. Wix:
Wix has emerged as a popular CMS platform in 2023, particularly for users seeking a simple yet powerful website builder. With its drag-and-drop interface and a wide selection of pre-designed templates, Wix allows users to create visually appealing websites quickly and easily.
Wix's focus on user experience and SEO-friendly practices has made it a favorite among small businesses, artists, and creatives looking to showcase their work online. The platform's integration with various third-party tools and applications further enhances its functionality.
In conclusion, the CMS landscape of 2023 showcases several excellent platforms catering to different needs and preferences. Whether you're a blogger, a business owner, or an e-commerce enthusiast, there's a CMS platform that suits your requirements. WordPress, Joomla, Drupal, Shopify, and Wix stand out as the top five choices due to their exceptional features, ease of use, and wide community support. When choosing a CMS for your next website project, consider the specific needs of your venture and the features offered by each platform to make an informed decision.
ALSO READ: What Are The Trending Software Testing Practices for 2023?