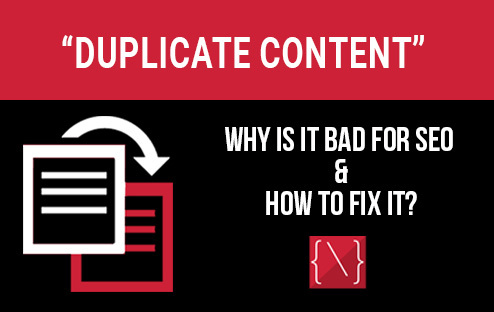 When it comes to search engine optimization (SEO), content is king. High-quality, unique content can help your website rank higher in search engine results, drive organic traffic, and establish your authority in your niche. However, there's a dark side to content that many website owners and marketers often overlook or underestimate: duplicate content. In this comprehensive guide, we'll explore what duplicate content is, why it's bad for SEO, and most importantly, how to fix it.
What is Duplicate Content?
Duplicate content refers to identical or substantially similar content that appears in more than one location on the internet. This can happen both within your own website and across different websites. Duplicate content can manifest in various forms:
Internal Duplicate Content: This occurs when the same or very similar content appears on multiple pages within the same website. For example, you might have two product pages with nearly identical descriptions.
External Duplicate Content: This happens when identical or highly similar content is found on different websites. It could be the result of scraping content from other sites, syndicating articles, or even using the same product descriptions as many other online retailers.
Printer-Friendly Versions: Often, websites offer printer-friendly versions of their content, which can lead to duplicate content issues if search engines index both the original and printer-friendly versions.
WWW vs. Non-WWW: If your website is accessible via both the www and non-www versions (e.g., www.example.com and example.com) and both display the same content, search engines might treat it as duplicate content.
HTTP vs. HTTPS: Similar to the www vs. non-www issue, if your site is available through both HTTP and HTTPS, search engines may see this as duplicate content.
ALSO READ: What is Social Bookmarking and How does it work for SEO?
Why is Duplicate Content Bad for SEO?
Duplicate content can have a detrimental impact on your website's SEO for several reasons:
Keyword Confusion: When search engines encounter duplicate content, they struggle to determine which version is the most relevant to a user's query. This can lead to your pages competing against each other in search results.
Ranking Dilution: Instead of consolidating the ranking power of a single page, duplicate content splits the ranking potential across multiple pages. As a result, none of your pages perform as well as they could individually.
Crawl Budget Waste: Search engines allocate a limited crawl budget to each website. Duplicate content consumes this budget unnecessarily, preventing search engines from indexing more valuable and unique pages on your site.
Penalties: In some cases, Google may penalize websites for hosting duplicate content, resulting in lower rankings or even removal from search results.
User Experience: Duplicate content can confuse and frustrate users who may click on different pages with identical information. This can lead to a high bounce rate and reduced user satisfaction.
How to Fix Duplicate Content Issues
Now that we understand the consequences of duplicate content, let's explore strategies to identify and resolve these issues effectively:
1. Conduct a Content Audit
Start by conducting a thorough content audit of your website. Identify pages with duplicate content issues, both internally and externally. Tools like Screaming Frog, SEMrush, or Google Search Console can help you identify duplicate content.
2. Choose a Preferred Domain
Decide whether you want your website to be accessible via www or non-www, and HTTP or HTTPS. Configure your website's settings and use 301 redirects to ensure all traffic is directed to your preferred domain and protocol.
3. Canonical Tags
Use canonical tags to specify the preferred version of a page when you have similar content on multiple pages. Search engines will then consolidate ranking signals to the canonical URL, minimizing the risk of duplicate content issues.
4. Rewrite or Update Content
For internal duplicate content issues, consider rewriting or updating the content to make it unique. Each page on your site should offer distinct value to users.
5. Implement 301 Redirects
For external duplicate content issues, reach out to the webmasters of the offending websites and request that they either remove the duplicate content or add a canonical tag to your original content. Alternatively, you can use 301 redirects to signal to search engines which version is the preferred one.
6. Use Noindex Tags
For printer-friendly versions or other non-essential duplicate content, consider using "noindex" meta tags to prevent search engines from indexing those pages.
7. Syndication Best Practices
If you syndicate content to other websites, use proper attribution and canonical tags to ensure your original content gets the credit it deserves.
8. Monitor and Maintain
Regularly monitor your website for new instances of duplicate content and address them promptly. As your website evolves, ensure that you continue to follow best practices for avoiding duplicate content.
In Conclusion
Duplicate content is a common issue that can harm your website's SEO efforts. By understanding what it is, why it's bad, and how to fix it, you can ensure that your website provides valuable, unique content to both users and search engines. A well-optimized, duplicate-free site will help you climb the search engine rankings, attract more organic traffic, and establish your brand's authority in your industry. So, take action today to address any duplicate content issues on your website and reap the benefits of improved SEO performance.
ALSO READ: How Schema Markup Contributes to Your SEO Ranking?