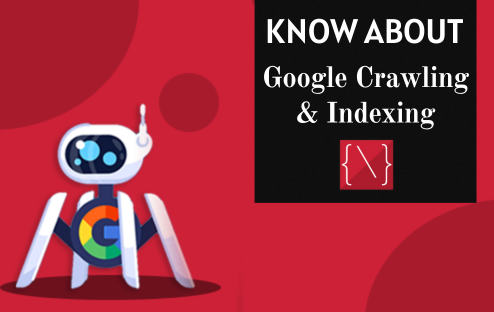 In the vast and ever-expanding world of the internet, search engines serve as our trusty guides, helping us navigate the web's seemingly endless sea of information. Google, being the most prominent of these digital guides, deploys a complex system to ensure that it efficiently and accurately presents us with the most relevant search results. This system involves two essential processes: crawling and indexing. In this blog, we will delve deep into the world of Google's crawling and indexing, unveiling the mysteries behind how the search engine makes sense of the internet.
Crawling: The First Step
Crawling is the first step in Google's process of organizing the web. Imagine the internet as a vast library, and Google's crawlers as diligent librarians, scouring the shelves for books. In this case, web pages are the books, and crawlers are automated bots or spiders, programmed to methodically traverse the internet.
How Crawling Works
The process begins when Google's crawlers visit a web page, typically by following links from other pages or through a sitemap submitted by website owners. The bot then downloads the page's HTML content, analyzes it, and follows any links found within the content. This process continues, forming a vast network of interconnected pages. It's worth noting that Googlebot doesn't view websites like humans do; instead, it relies on the HTML source code and text content.
Crawling Frequency
Not all websites are crawled with the same frequency. Google assigns a crawl budget to each site, considering factors such as the site's importance, update frequency, and server response time. High-quality, frequently updated websites usually get crawled more often, while low-quality or rarely updated sites may be crawled less frequently.
Robots.txt and Meta Robots
Website owners have the ability to control what parts of their site are crawled through a file called 'robots.txt' and by using 'meta robots' tags in their HTML. These tools allow site owners to exclude specific pages or directories from being crawled by Google.
Indexing: The Second Step
Once a page is crawled and its content is analyzed, Google adds it to its vast database, also known as the index. The index is like a giant catalog of the internet's content, allowing Google to quickly retrieve and display relevant search results to users.
How Indexing Works
Google's indexing process involves parsing and storing the information from a web page. This information includes text content, images, videos, and even structured data like schema markup. This stored data is then analyzed and sorted, making it easier to retrieve when a user conducts a search query.
Duplicate Content
One critical aspect of indexing is managing duplicate content. Duplicate content can confuse search engines and negatively impact a site's search rankings. Google's indexing system aims to identify and consolidate duplicate pages, ensuring that only one version is stored in the index.
Updating the Index
The index is not static; it's constantly updated to reflect changes on the web. When Google's crawlers revisit a page and detect changes, the index is updated accordingly. This process ensures that search results are current and relevant to users.
The Connection between Crawling and Indexing
The relationship between crawling and indexing is intimate. Crawling provides the raw data, and indexing organizes and makes sense of this data. When a user enters a search query, Google's search algorithms consult the index to provide the most relevant results.
The efficiency and accuracy of this process depend on how well Googlebot crawls and how comprehensively Google's index reflects the content of the web. For website owners and digital marketers, understanding this relationship is crucial, as it helps optimize a site's visibility in search results.
Best Practices for Website Owners
Now that we have a better grasp of Google's crawling and indexing processes, let's explore some best practices for website owners:
Optimize Crawlability: Ensure that your website is easily crawlable by organizing your site structure, using clear and concise HTML, and creating a sitemap.
Quality Content: Publish high-quality, relevant content that engages users. Google's algorithms favor fresh, unique, and valuable content.
Mobile-Friendly: With the mobile-first indexing approach, it's essential to have a mobile-friendly website for a broader reach.
Page Speed: Fast-loading pages are essential for a good user experience and can positively impact your search rankings.
HTTPS: Secure your website with HTTPS, as Google prefers secure sites and ranks them higher.
Structured Data: Implement structured data markup (schema.org) to enhance the visibility of rich snippets in search results.
Regular Updates: Keep your site fresh and updated, as this encourages Google to crawl and index your site more frequently.
Duplicate Content: Avoid duplicate content issues by using canonical tags or redirects to specify the preferred version of a page.
Robot Directives: Use robots.txt and meta robots tags to control which parts of your site are crawled.
Monitor Performance: Regularly check your site's performance in Google Search Console to identify crawl and indexing issues.
Conclusion
Google's crawling and indexing processes are the backbone of the search engine's ability to provide users with relevant and up-to-date information from the vast expanse of the internet. Understanding these processes and implementing best practices can significantly impact a website's visibility and search rankings.
Website owners and digital marketers should continuously adapt to the evolving landscape of SEO and search engine algorithms, ensuring their sites are not only crawled but also indexed effectively. By doing so, they can harness the immense power of Google to connect with a global audience and provide valuable information to those in search of answers, products, or services.
ALSO READ: How Schema Markup Contributes to Your SEO Ranking?