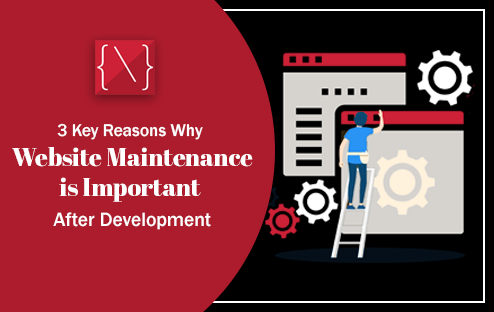 In today's fast-paced digital landscape, having a website is no longer an option; it's a necessity. Whether you're a small business owner, a blogger, or a large corporation, a well-maintained website is crucial for success. While many invest significant time and resources in the initial development phase, it's equally important to understand the significance of ongoing website maintenance.
Here are three key reasons why website maintenance should be a priority after the web development phase:
1. Security Concerns:
One of the most critical reasons to prioritize website maintenance is security. The internet is rife with cyber threats, and without proper maintenance, your website becomes vulnerable to attacks. Outdated software, plugins, and themes are common targets for hackers.
Regular updates to your website's content management system (CMS), plugins, and themes are essential to patch vulnerabilities and protect against potential breaches. Additionally, implementing security measures like firewalls and SSL certificates can further safeguard your site and the sensitive information of your visitors.
By keeping your website up-to-date and secure, you not only protect your own interests but also establish trust with your audience. When visitors know they can browse your site safely, they are more likely to engage, convert, and return.
2. Optimal User Experience:
User experience (UX) is a critical factor in the success of any website. A well-maintained site ensures that visitors can navigate easily, find information quickly, and have a seamless browsing experience across different devices.
Over time, broken links, outdated content, and slow-loading pages can significantly impact user satisfaction. By conducting regular checks and updates, you can identify and rectify these issues before they negatively impact your audience.
Furthermore, website maintenance allows for the implementation of responsive design practices. With the increasing use of mobile devices for internet browsing, ensuring that your site is mobile-friendly is paramount. A well-maintained website adapts to different screen sizes and resolutions, providing an optimal experience for all users.
3. Search Engine Optimization (SEO) Benefits:
Search engines like Google and Bing continually update their algorithms to provide the best results to users. To maintain or improve your search rankings, it's crucial to stay current with these changes.
Website maintenance includes tasks such as updating meta tags, optimizing images, and ensuring that your content is relevant and up-to-date. Regularly auditing and improving your website's SEO not only helps in maintaining your current rankings but also positions your site for higher visibility in search results.
Additionally, a well-maintained website tends to load faster, which is a known factor in search engine rankings. By optimizing images, minimizing code, and utilizing caching techniques, you can improve your site's performance and increase its chances of ranking higher in search results.
In conclusion, website maintenance is not an optional task but a crucial part of managing a successful online presence. By prioritizing security, ensuring optimal user experience, and reaping the benefits of SEO, you're not only safeguarding your website but also setting the stage for growth and success in the digital realm.
Remember, a website is a dynamic entity that requires ongoing care and attention. By investing in maintenance, you're investing in the long-term success and effectiveness of your online presence.
ALSO READ: Tips to Improve Your Website User Experience