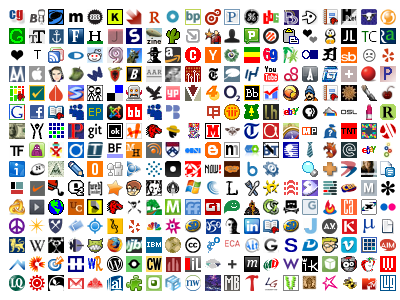 A favicon /ˈfævɪkɒn/ (short for Favorite icon), also known as a shortcut icon, Web site icon, tab icon or bookmark icon, is a file containing one or more small icons, most commonly 16×16 pixels, associated with a particular website or web page.A web designer can create such an icon and upload it to a website (or web page) by several means, and graphical web browsers will then make use of it.
Position of Favicon
Open any website and look at the browser's open tab, the little icon in it is a favorites icon. Additionally, this icon can also be found in the bookmarks directory, inside the website in its content, and sometimes even in the address bar of the browser for active pages.
Importance of Favicon
These icons are quick and easy identification marks of a website and are sometimes known as shortcut icons too.They help your viewers to recognize your page amidst the slew of other tabs and pages that they might have open in their browser at any particular moment.Favicons are most often the "logo" of the site and in today's fast paced electronic world, the favicons are often identical to the "app" symbol that would be used for the phone app version of the same site.
Making of a Favicon
Favicons can be difficult to create both technically and aesthetically due to their unusual file format and small image size.Use X-Icon Editor for this. It's a free web-based tool and it makes it easy to upload your images into the appropriately sized slots and then export a single ICO.The favicon HTML code is: .Give it a proper name and put it in the root directory of the website.