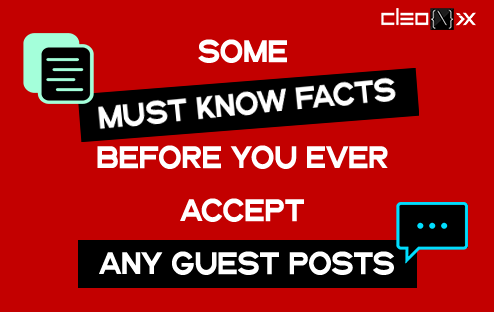 Guest posting is one of the most valuable marketing strategies which requires no money. Guest posting is a method of publishing your content on other web pages. In fact, if you allow other content creators to post their content on your website, it will create a big opportunity for you. Once you start accepting guest posts request, your blog will receive a ton of web traffic and that too without much effort.
Guest posters will promote your content which will help you with free advertising. In addition, free marketing can build your online brand with a ton of shares on social media. But there are a few things that you should know before you start to guest posts. So, in this blog, let us discuss some must-known facts before you ever accept any guest posts.
Facts To Keep In Mind Before You Start Guest Posting
Create Your Goals :
If you have a plan to start guest posting, it will bring a good amount of web traffic for your blog. But before you start, you should what to do with this increasing web traffic. Creating and working according to your goals will help you to manage these visitors better. For example, if you want people to sign-up for your newsletter, include a subscribe form on your home page.
Figure out the Guidelines for Your Guest Posting :
Once you start to guest posts, you'll definitely get a ton of questions to know about your expectations about the post. So, if you take out some time and answer all these queries on the guidelines page, it will save you a lot of time. In fact, this will even encourage other guest posters to contact you.
Let The World Know About Your Statistics :
In this digital world, no one will know about your existence and importance until you decide to let people know. So, in the case of guest posts, you should display all the demographics to the world to explain why should they choose you. For example, you should display your monthly visitors, readers, and your subscriber's lists.
Your Home Page Should Display the Best Version of You :
This is easily one of the most important aspects of promoting your online brand. See, if any audience visits your blog, your home page should have content that can grab his/her attention. In this world, the first impression is the last impression and that could the first nail in your coffin. So, structure your blog accordingly.
Don't Forget About Your Social Media Presence :
As we have discussed earlier, guest posts will help you increase your web traffic. So, we suggest you use this increased traffic to boost your social media presence. Remember, having a good social media presence will eventually help to build your online brand. Therefore, keep all the links of your social media handles like Twitter, Facebook, and LinkedIn on your home page.
Develop a Plan To Advertise Your Guest Posts :
After publishing the guest posts, most creators get confused regarding how to promote their published content. So, before start posting, you need to develop a plan and work accordingly. For example, if you plan to use social media, post on all the social media accounts about your newest published content.
Conclusion
Guest posting is a great way to advertise and market your online brand. But starting without a plan can bring undesirable results. So, if you have plans to start guest posting, just make sure to keep the above points in your mind.