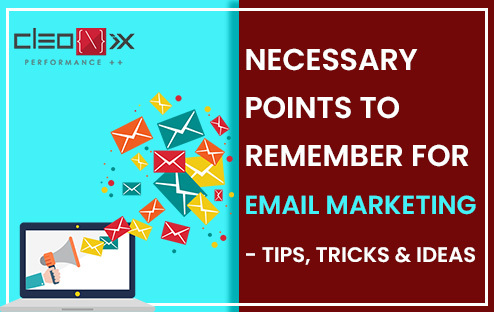 Email marketing remains one of the most effective and essential tools for businesses to connect with their audience. Despite the rise of social media and other digital marketing channels, email still offers a direct and personal way to engage customers, generate leads, and drive sales. However, to make the most out of your email marketing efforts, you need to follow some best practices and consider a few important points. In this blog post, we'll explore some necessary points to remember for email marketing, along with valuable tips, tricks, and creative ideas.
1. Build a Quality Email List
A successful email marketing campaign begins with a high-quality email list. Avoid purchasing email lists, as they are often filled with uninterested or spam-sensitive recipients. Instead, focus on growing an organic list through sign-up forms on your website, lead magnets, and other opt-in strategies. Segment your list based on demographics, interests, or engagement levels for targeted and personalized content delivery.
2. Create Compelling Subject Lines
Subject lines are the gatekeepers of your emails. A compelling subject line can entice recipients to open your email, while a lackluster one might send it straight to the trash. Keep subject lines concise, clear, and relevant to the content inside the email. Use action-oriented language, urgency, and personalization to capture the reader's attention.
3. Craft Engaging Content
Once your email is opened, the content needs to be engaging and valuable. Understand your audience's pain points and provide solutions, offer exclusive promotions, share relevant news, or provide entertaining content. Use a mix of text, images, and videos to keep the email visually appealing and scannable.
4. Mobile Responsiveness is Key
In today's mobile-driven world, your emails must be responsive and look great on various devices. Many users check their emails on smartphones or tablets, so optimizing your emails for mobile viewing is essential. Test your email designs on different devices and email clients to ensure a seamless user experience.
5. Personalization and Segmentation
Email personalization goes beyond addressing the recipient by their first name. Leverage data from your email marketing platform to deliver targeted content based on customer behavior, preferences, and purchase history. Segment your email list to send relevant messages to specific groups, increasing the likelihood of engagement and conversions.
6. Avoid Spam Traps
To ensure your emails reach your subscribers' inboxes, avoid common spam triggers. Don't use excessive punctuation, excessive capitalization, or trigger words commonly associated with spam. Always include an easy-to-find unsubscribe link to comply with anti-spam regulations and improve your sender reputation.
7. Timing Matters
Timing plays a crucial role in email marketing success. Sending emails at the right time increases open rates and engagement. Use data from your email analytics to determine when your audience is most active and adjust your sending schedule accordingly.
8. A/B Testing
Experimentation is key to improvement. Conduct A/B tests (split tests) on different elements of your emails, such as subject lines, CTAs, visuals, and content. Analyze the results to identify what resonates best with your audience and optimize your future email campaigns accordingly.
9. Clear Call-to-Action (CTA)
Your email should have a clear and compelling CTA that guides readers towards the desired action. Whether it's making a purchase, signing up for an event, or downloading a resource, the CTA should stand out and be easy to follow.
10. Monitor and Analyze Results
Regularly track and analyze the performance of your email campaigns. Use metrics like open rates, click-through rates, conversion rates, and unsubscribe rates to gauge the success of your campaigns. Utilize these insights to refine your strategies and continually improve your email marketing efforts.
11. Avoid Overloading with Emails
Be cautious not to bombard your subscribers with too many emails. Frequency is essential, and sending emails too frequently might lead to higher unsubscribe rates or email fatigue. Find the right balance between staying present and being respectful of your audience's inbox.
12. Maintain Consistency and Branding
Consistency in your email marketing efforts helps reinforce your brand identity and builds trust with your audience. Use consistent branding elements like logo, colors, and tone of voice across all your emails. This familiarity helps subscribers recognize your emails instantly and creates a sense of reliability.
13. Automate with Drip Campaigns
Drip campaigns are a series of automated emails sent based on specific triggers or user actions. They allow you to nurture leads, onboard new customers, and re-engage inactive subscribers without manual intervention. Utilize automation to save time and deliver timely and relevant content to your audience.
14. Celebrate Milestones and Events
Don't miss opportunities to celebrate milestones, special occasions, or holidays with your subscribers. Sending personalized birthday wishes or anniversary offers can make your subscribers feel valued and strengthen the relationship with your brand.
15. Include Social Sharing Options
Encourage your email recipients to share your content on social media by including social sharing buttons. This extends the reach of your emails beyond your subscriber list and can lead to new subscribers and increased engagement.
Conclusion
Email marketing remains a powerful tool for businesses to connect with their audience and drive results. By following these necessary points, incorporating valuable tips and tricks, and experimenting with creative ideas, you can optimize your email marketing campaigns for success. Remember, effective email marketing is all about delivering value, building relationships, and staying relevant in the eyes of your subscribers. Stay consistent, stay customer-focused, and watch your email marketing efforts yield impressive results.
ALSO READ: How to Grow Your Business Rapidly through WhatsApp Marketing