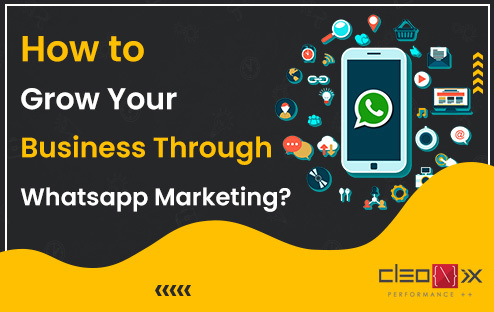 In today's fast-paced digital world, businesses are constantly seeking new and effective ways to reach and engage with their target audience. WhatsApp, the popular messaging app, has evolved beyond personal communication and has become a powerful marketing tool for businesses worldwide. With over 2 billion active users, WhatsApp provides a unique opportunity to connect with customers, build relationships, and drive sales. In this article, we will explore how you can leverage WhatsApp marketing to grow your business and achieve your goals.
Build a Strong Foundation:
Before diving into WhatsApp marketing, it's crucial to establish a strong foundation for your business. Define your target audience, understand their needs, and develop a clear value proposition. This foundation will guide your messaging and help you tailor your WhatsApp marketing strategy to resonate with your audience effectively.
Create a Professional Business Profile:
To establish credibility and professionalism on WhatsApp, create a dedicated business profile. Use your brand logo as the profile picture and include relevant information such as your business name, contact details, and a brief description of your products or services. A professional profile will instill trust in your customers and make your business appear more legitimate.
Build and Grow Your Contact List:
WhatsApp marketing relies on having a robust contact list of potential and existing customers. Promote your WhatsApp presence across various channels, such as your website, social media platforms, and email newsletters, to encourage people to join your WhatsApp community. You can also offer incentives, exclusive content, or special discounts to entice users to sign up.
Provide Valuable and Relevant Content:
One of the keys to successful WhatsApp marketing is delivering valuable and relevant content to your audience. Avoid bombarding them with promotional messages; instead, focus on providing information, tips, and engaging content that aligns with their interests. By consistently delivering valuable content, you can position your business as an authority and build trust with your customers.
Use WhatsApp Business Features:
WhatsApp offers several features specifically designed for businesses to enhance their marketing efforts. Utilize features like WhatsApp Business API, automated messaging, quick replies, and chatbots to streamline communication, provide instant customer support, and manage large volumes of messages efficiently. These tools can save time and resources while delivering a seamless user experience.
Personalize and Segment Your Messages:
Segmenting your WhatsApp contacts into different groups based on demographics, interests, or past interactions allows you to personalize your messages. Sending targeted messages that cater to specific segments increases the relevance and effectiveness of your marketing campaigns. Personalization helps foster a deeper connection with your audience and improves engagement rates.
Run Contests and Promotions:
Engage your WhatsApp audience by running contests, giveaways, or exclusive promotions. This approach not only encourages user participation but also creates a buzz around your brand. For example, you can offer special discounts or access to limited-time offers exclusively for your WhatsApp subscribers. Contests and promotions can generate excitement and motivate users to share your brand with their contacts.
Enable Two-Way Communication:
WhatsApp is not just about broadcasting messages; it also allows for interactive and two-way communication. Encourage your customers to ask questions, provide feedback, and share their experiences. Promptly respond to their queries and be proactive in addressing their concerns. Building a strong customer relationship through direct communication can boost customer loyalty and generate positive word-of-mouth referrals.
Leverage WhatsApp for Sales and Support:
WhatsApp can be a powerful tool for sales and customer support. Allow customers to inquire about products, make purchases, and track their orders through WhatsApp. Enable a seamless purchase experience by integrating a secure payment gateway directly into the messaging app. Additionally, provide quick and efficient support by promptly addressing customer inquiries and resolving issues, which can result in increased customer satisfaction and repeat business.
Measure and Analyze Results:
Like any marketing strategy, it's essential to measure and analyze the results of your WhatsApp marketing efforts. WhatsApp Business provides built-in analytics that allow you to track metrics such as message delivery, open rates, and engagement levels. Pay attention to these metrics and use the insights gained to refine your strategies, improve your messaging, and optimize your campaigns for better results.
Maintain Privacy and Security:
When using WhatsApp for business purposes, it is crucial to respect your customers' privacy and ensure their data is secure. Adhere to WhatsApp's terms of service, respect anti-spam regulations, and obtain proper consent before sending marketing messages. Protect your customers' data by implementing secure encryption protocols and keeping their personal information confidential.
Stay Updated with WhatsApp Updates and Features:
WhatsApp continuously introduces new features and updates to improve user experience and enhance business capabilities. Stay updated with these changes to leverage the latest tools and features that can benefit your business. Regularly check for updates, explore new features, and adapt your strategies accordingly to stay ahead of the competition.
Conclusion
WhatsApp marketing offers immense potential for businesses to grow their reach, engage with customers, and drive sales. By following the strategies outlined in this article, you can establish a strong WhatsApp marketing presence and effectively connect with your target audience. Remember to provide valuable content, personalize your messages, leverage WhatsApp features, and maintain open and responsive communication with your customers. As you navigate the world of WhatsApp marketing, consistently analyze your results and make necessary adjustments to optimize your efforts. Embrace the power of WhatsApp and unlock new opportunities for your business's growth.
ALSO READ: What is Influencer Marketing And How It Can Help in SEO in 2023?