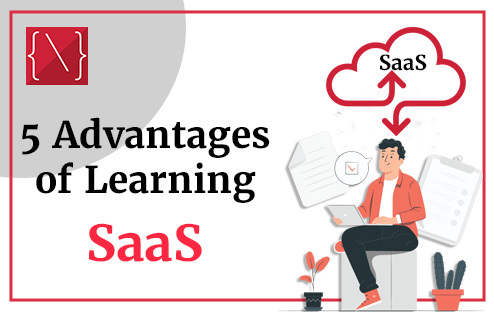 In today's rapidly evolving technology landscape, "Software as a Service" (SAAS) has emerged as a game-changer, transforming the way businesses and individuals access, use, and manage software applications. Learning SaaS, whether you're a seasoned IT professional or a curious newcomer, offers a plethora of advantages that can enhance your career prospects and personal growth. In this blog post, we'll explore five compelling advantages of learning SaaS and why it's a skill worth acquiring.
Accessibility and Convenience
One of the most significant advantages of SaaS is its accessibility and convenience. Unlike traditional software that requires installation and maintenance on individual devices, SaaS applications are hosted in the cloud. This means you can access them from anywhere with an internet connection and on any device. Learning how to use SaaS applications effectively empowers you to work, collaborate, and stay productive while on the go, whether you're at home, in the office, or on vacation.
Cost-Efficiency
SaaS offers a cost-effective alternative to traditional software licensing. With SaaS, you typically pay a subscription fee, which covers software updates, maintenance, and customer support. This eliminates the need for costly upfront investments in software licenses, hardware, and IT infrastructure. By mastering SaaS tools, you can help your organization reduce its software-related expenses and allocate resources more efficiently.
ALSO READ: Pros and Cons of Using Windows Hosting in 2023
Scalability
The scalability of SaaS is another significant advantage. Whether you're a small business looking to grow or a large corporation with fluctuating software needs, SaaS applications can easily adapt to your requirements. You can increase or decrease the number of user licenses, storage capacity, or other resources as your needs change. Learning SaaS allows you to harness the full potential of this scalability, ensuring your software resources align with your business demands.
Automatic Updates and Maintenance
SaaS applications are known for their seamless and automatic updates. With traditional software, you often have to manually download and install updates, which can be time-consuming and sometimes disruptive. SaaS providers handle updates and maintenance in the background, ensuring that you always have access to the latest features, improvements, and security patches. Learning how to manage SaaS applications helps you stay current with technology and safeguards your data and systems.
Collaboration and Integration
Collaboration is at the core of many SaaS applications. Learning how to use tools like Google Workspace, Microsoft 365, or Slack can significantly enhance your ability to work with colleagues and clients. SaaS applications also tend to integrate with other software, offering a seamless ecosystem for your workflow. By mastering SaaS, you can streamline your work processes, share documents more efficiently, and facilitate better communication with your team.
Conclusion
Learning SaaS is not just a skill; it's an investment in your future. Its accessibility, cost-efficiency, scalability, automatic updates, and collaborative features make it a valuable asset for both individuals and businesses. As the technology landscape continues to evolve, proficiency in SaaS applications becomes increasingly essential for staying competitive and efficient. So, whether you're an entrepreneur looking to streamline your operations or an IT professional aiming to expand your skill set, diving into the world of SaaS is a smart move. Embrace the advantages of SaaS, and you'll find yourself well-equipped for the challenges of the modern digital age.
ALSO READ: Why Should You Invest in Laravel Development?