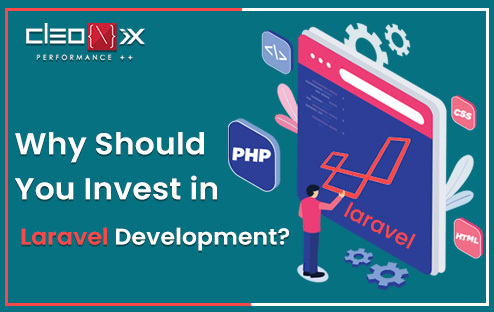 In today's digital age, businesses are constantly seeking ways to stay ahead of the competition and deliver exceptional online experiences to their customers. One of the most crucial aspects of achieving this goal is investing in the right web development framework. Laravel, an open-source PHP framework, has gained immense popularity among developers worldwide due to its elegance, simplicity, and extensive features. In this blog post, we will delve into the reasons why Laravel development is an excellent investment for businesses looking to build robust, scalable, and high-performing web applications.
Modern and Elegant Syntax:
Laravel boasts a clean and expressive syntax that simplifies the development process and enhances the readability of the codebase. With Laravel, developers can build applications faster and more efficiently, reducing development time and costs. The framework follows the MVC (Model-View-Controller) pattern, promoting a separation of concerns and making the codebase easier to manage and maintain.
Comprehensive Documentation and Large Community:
Laravel's documentation is one of its strongest assets. It provides in-depth explanations, tutorials, and examples, enabling developers to quickly grasp the concepts and get started with the framework. Moreover, Laravel has a large and active community of developers who contribute to its growth. The community offers support, shares knowledge, and provides ready-to-use packages, saving developers valuable time and effort.
Robust Security Features:
Security is a critical aspect of any web application, and Laravel takes it seriously. The framework implements various security measures such as password hashing, SQL injection prevention, and cross-site scripting (XSS) protection out of the box. Laravel also provides a simple and intuitive way to handle authentication and authorization, making it easier for developers to protect their applications from common security vulnerabilities.
Blade Templating Engine:
Laravel's Blade templating engine simplifies the process of building dynamic and reusable views. It offers an intuitive syntax with features like template inheritance, sections, and components. Blade templates are compiled into plain PHP code, resulting in fast rendering times. Additionally, Blade provides powerful control structures and conditional statements, enabling developers to create complex UI components with ease.
Database Migration and ORM:
Laravel includes a robust database migration system that allows developers to define and manage database schemas using PHP code. This feature makes it effortless to create and modify database tables, indexes, and relationships, ensuring smooth database transitions across different environments. Furthermore, Laravel's ORM (Object-Relational Mapping) called Eloquent provides a simple and elegant syntax for interacting with databases, making database queries more readable and maintainable.
Caching and Performance Optimization:
Performance plays a crucial role in delivering a seamless user experience. Laravel offers various caching mechanisms, including in-memory caching, database caching, and Redis caching. These caching options significantly improve application speed and reduce server load. Additionally, Laravel's support for queueing and task scheduling helps optimize performance by handling time-consuming tasks asynchronously.
Integrated Testing and Debugging:
Laravel simplifies the testing process by providing a robust testing framework. It includes various testing helpers, assertion methods, and an expressive syntax for writing tests. With Laravel's built-in testing capabilities, developers can easily write unit tests, integration tests, and acceptance tests to ensure that their application functions correctly and maintains stability. Additionally, Laravel's detailed error reporting and debugging tools facilitate identifying and resolving issues efficiently.
Seamless Integration with Third-Party Services:
Modern web applications often require integration with third-party services such as payment gateways, cloud storage providers, and social media platforms. Laravel makes integrating these services a breeze with its extensive collection of pre-built APIs and packages. Whether it's handling payments, sending emails, or interacting with popular APIs like Stripe or Amazon S3, Laravel provides well-documented and easy-to-use libraries that simplify the integration process.
Conclusion
Investing in Laravel development brings numerous benefits to businesses of all sizes. From its modern syntax and comprehensive documentation to its robust security features and seamless integration capabilities, Laravel empowers developers to create powerful, scalable, and secure web applications. By leveraging the framework's features, businesses can streamline their development processes, enhance application performance, and deliver exceptional digital experiences to their customers. Whether you're building a small business website or a complex enterprise application, Laravel is a solid investment that can propel your web development efforts to new heights.
ALSO READ: Shopify or Magento Which One to Choose For Your eCommerce Development