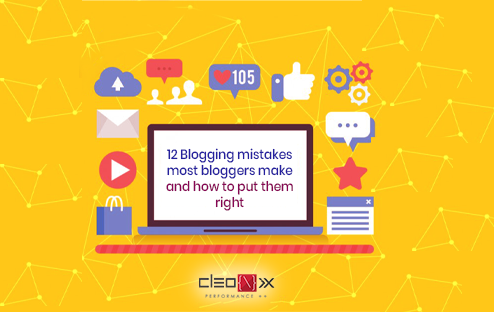 The first year of keeping a blog is always the hardest. You're just getting into the game and you haven't quite learned all the ins and outs of playing just yet. While that's understandable, if you're making too many mistakes with your blog, you'll never have a chance to get it off the ground. Here are twelve common blogging mistakes, and steps you can take to avoid them.
1) Ignoring reader comments
You don't have to respond to every single comment but if somebody makes an interesting point or asks a question, answer it. Commenting back encourages readers to start a dialogue and lets them know that you're listening to what they have to say.
2) Straying off topic
It's easier than you'd think to start a blog post with one idea in mind, only to drift away from that to a completely different idea by the end. However, while that rambling might work under some conditions, it's not good for a blog. People aren't going to want to read a blog post that wanders around eight different topics like a lazy river. Keep your posts simple and to the point, and you'll keep more readers.
3) Uninteresting Headlines
Titles are the most significant basics of a blog post. They talk a lot about the content to readers and can often be used to set expectations. If a title is not attractive and descriptive, it will not have the desired effect.
4) No countermeasure for spam
A spam countermeasure is as simple as a verification box, where people enter a series of letters before they post. Or, you could ask a simple question, like "Is fire hot or cold?" Just do something to ensure that the person posting is actually a person.
5) Looking just like everybody else
Using the exact same templates that come with every blog is boring. You don't look special; you look like everybody else. A unique blog design that matches your website will keep brand consistency for your users. Plus, it will showcase your personality and taste, not the taste of the template designers.
6) Poor grammar and punctuation
You probably don't worry too much about grammar, spelling, and punctuation when you're chatting online, but those mistakes in a blog can be a death sentence. Blogs with lousy grammar and punctuation and frequent misspellings come across as unprofessional, and that's not the image that you want for your business.
7) Stale or grandiose writing
Blogs are supposed to provide personal, human insight into your company. They shouldn't read like bland corporate gibberish, nor should you use so many five-dollar words that your readers would have to hit a dictionary just to understand your post. So, always Keep your writing simple and lively.
8) Personal attacks
Controversial ideas or topics are good for blogs, as they can spark discussion and attract a lot of attention. However, while controversy is good, stopping to personal attacks is not. You're writing a professional blog, not picking a grade school fight. Personal attacks will reflect badly on both you and your company, so refrain from it.
9) Long absences
It's all right if you can't post every day. However, letting 10 days, two weeks, or even a month pass without updating is a big blogging no-no. A lack of updates indicates that your blog is on its way out, and readers will quit checking back.
10) Lack Of Supporting Images
Many bloggers use images that do not support their key messages. While some do not use any images at all.
Using the right images can take your blog to another level since your readers will have an easy time going through your posts, hence encourage them to participate more in your blog. Never forget to alt-tag your images.
11) Plagiarisms
Copying of other bloggers articles is called plagiarism. This act is illegal; it is an offense under the copyrights. Some bloggers depend on copying and pasting instead of putting up their own thoughts using their own words.
Google loves originality. Original articles are unique and your thoughts can also be easily expressed in this way.
12) Neglecting SEO or Doing Heavy SEO
SEO helps visitors to find your blog. Visitors never find your site by mistake. However, as much as SEO is important, you do not need to apply it excessively.
On the other hand, you also need to look at how many keywords you are stuffing into your information. Too much SEO'ing means that you are purely writing for the robots, and that is very much against the guidelines of blogging since it may lead to spamming.
By avoiding these common blogging mistakes, you can keep your blog helpful, interesting, insightful and professional. Take steps to correct your mistakes now and you can make sure that your blog and readers will be around for a long time to come.