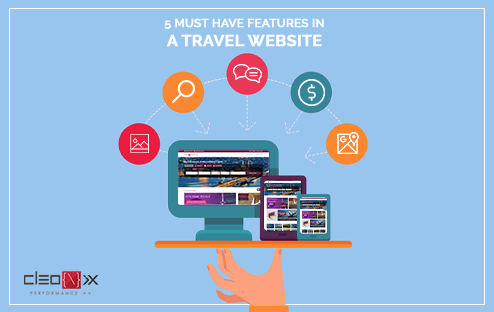 A travel website is a website focused on travel location, hotels, reviews, trip fares, or a combination of both. Building your own website is easy. Your new site will work better and look better if you plan a bit before you jump in. If you want to build a travel website, you must keep in mind about the following features.
1. Attractive Visuals: Attractive visuals catch users attention. First impressions are formed quickly. Attractive visuals make a strong statement and will have a bigger impact on your website. Also, people interact more on social networking sites that have plenty of images.
2.Straightforward & Predictive search filters: Search filtering is very useful as there are various parameters involved in traveling. Predictive search is nothing but a drop-down list that pops up immediately while typing so that you don't have to hit 'search' to find out common queries. This is an excellent way to avoid displaying a large list of results, finding results quickly and to display questions the user hasn't thought of. It is very user-friendly.
3.Customer reviews: Testimonials, customer reviews, and recommendations are increasing day by the day as users want to know others experience before making a decision. In case of travel sites reviews increase conversion rate. And as an added bonus, reviews help to improve your sites SEO ranking. So, the review is a must on any travel website.
4.Clear pricing without hidden fees: If the pricing is not clear and has hidden charges and taxes, there is a high chance of the user spending their money elsewhere. So, if you want to increase your profits, it is essential to know the importance of clear pricing. A pricing table must be simple and clear so that users' can choose the appropriate package. It shouldn't offer too much or too little, just the right amount of information for them to distinguish between the packages.
5.Google map integration: It helps people find the exact locations they are looking for by adding Google map links. It will be easy for people to see the destination easily as they needn't cut paste the text into a map to view the location.
"Cleonix Technologies" is a Kolkata based Web development & hosting provider company specializing in Website Design, Graphic Design, Web Development, Digital Marketing, Search Engine Optimization. For creating an awesome travel website contact us.