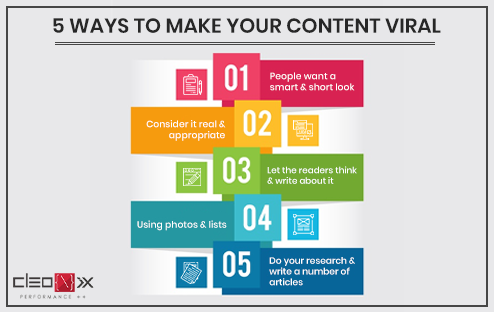 Viral content is any media product that becomes suddenly wildly popular. It could be a Youtube video, Facebook post, tweet, or almost any social media content that is shared thousands of times.
1. People want a smart & short look :
As people think about content sharing, they take social capital into consideration. The more likely they are to pass it on to their friends and followers if it makes them look clever or intelligent. The vast majority of the content of the virus is low. Videos tend to vary between around 30 seconds and one minute. Everything is longer and you may lose your grip. The same applies to blogs. People have short periods of attention; so make it easy for them with "scannable" content such as photos, dot points, and subheadings. It usually takes only a few seconds for somebody to decide if they want to keep visiting your page or go somewhere else. The first impression is what counts and this is largely determined by the visual elements you are using, as noted by Derek Halpern, an online marketing expert.
2. Consider it real and appropriate :
Many people don't look for highly produced or overdone videos or forums. There must be a genuine feeling. Nothing is more irritating than a large, massive, long paragraph. In a world full of misery, material that elicits positive emotions like excitement, happiness, and fun is much more common than sadness. Find out what makes them tick in addition to the usual demographic and geographic information? What are they talking about? Where are they going to hang out? What makes them angry? Who would they like to be like? In the end, don't forget to tell an interesting story — if it's personal, even better. Tons of research shows that messages with a storyline and easily identifiable characters are far more engaging and immersive than messages or blogs that are not narrative.
3. Let the readers think & write about it:
If you're a blogger, you need a good system of the comment section. If you get a positive or contentious post, please answer. A strong communicating community of people will always increase your chances of virality. Engage your followers by engaging in a public conversation. The cornerstone of your social success is your supporters. You simply do not exist online without them. The trick to becoming viral is connecting with your followers within a message.
4. Using photos and lists:
If you're adding a list to your blog, your chances of going viral will increase a lot. If you pad that list with some creative images, you will increase your viral chances even more. Think of video, images, and GIFs to go viral on social media. These forms of visual content are a cornerstone of social media and can easily go viral when done correctly.
5. Do your research and write a number of articles:
Helping people get further into new research subjects is another powerful way to drive shares. The trick to reach a massive number of people is to create a variety of posts. Although in a fast-paced digital age it may seem counterintuitive, longer content actually gets more shared than shorter pieces.