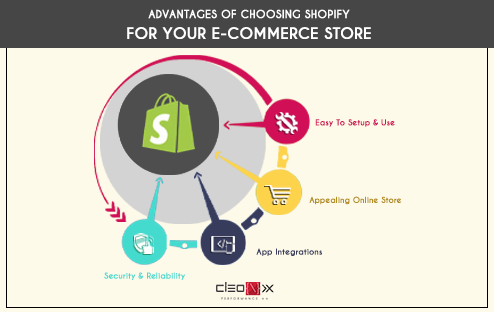 E-commerce, also known as internet commerce or electronic commerce, refers to the buying and selling of goods or services using the internet, and the transfer of money and data to execute these transactions. E-commerce development is highly important in today's competitive environment. Magento, WooCommerce, PrestaShop, OpenCart, and BigCommerce are some of the popular e-commerce platforms. Shopify provides quality and efficiency along with simplicity and rich features. Let us check the benefits of creating eCommerce store using Shopify.
1.Easy To Setup And Use:
Shopify is very easy to setup and use. It is the complete solution for those who don't have knowledge of technicalities related to the development and hosting of the online store.
2.Visually Appealing Online Store:
The platform packs a variety of professional templates that facilitate the creation of unique and visually appealing online stores.
3.App Integrations:
The seller can also easily add extra features and functionalities to his store and raise its value.
4.Security and Reliability:
It offers security and reliability. Security is essential for online business because it deals with confidential personal and financial information of the customers.
5.Powerful Marketing Tools:
As a complete platform, Shopify has marketing advantages too. The basic version of Shopify offers SEO features along with advanced e-commerce analytics.
6.Excellent Loading Speed:
This gives the platform a super-fast loading speed and the e-commerce made on it to load in a matter of seconds.
7.Outstanding Customer Support:
Shopify experts are available 24/7 via email, live chat, or phone to resolve any queries and keep the store running flawlessly at all times.
For these amazing features, Shopify became one of the best choices for e-commerce store development.