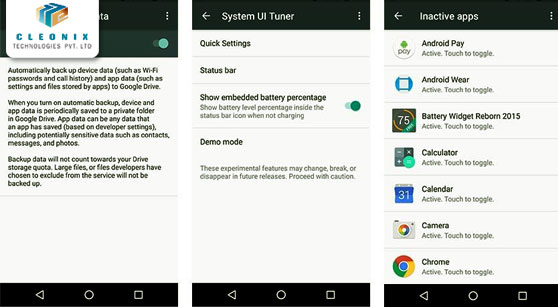 Android 6.0 "Marshmallow" is a version of the Android mobile operating system. It was unveiled in May 2015 at Google I/O under the codename "Android 'M'", & it was officially released in October 2015.
Marshmallow primarily focuses on improving the overall user experience of Lollipop,[5] introducing a new permissions architecture, new APIs for contextual assistants (a feature notably leveraged by "Google Now On Tap"—a new capability of the Google Search app), a new power management system that reduces background activity when a device is not being physically handled, native support for fingerprint recognition and USB Type-C connectors, the ability to migrate data to a microSD card and use it as primary storage, as well as other internal changes.
The Top Features of Android Marshmallow
Marshmallow served us a new battery saving function known as "DOZE".It uses the device motion sensors to detect that Smartphone is being used or not.
Google has provided a platform for the fingerprint sensors in this android version.
Google has provided with the secure mobile payment.
No need to give apps access all the time. It lets you define what you want to share and when. Turn permissions off at any time, too.
In marshmallow, Google has supported you with the new function of usb standard- usb type- c. For this usb connector can be used in either direction inside the unit.