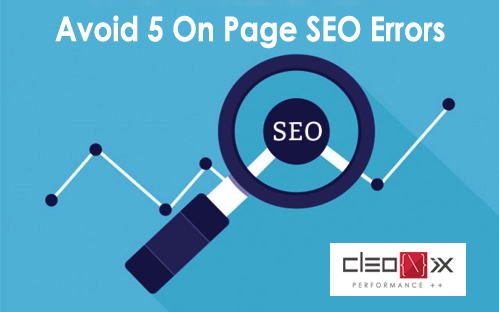 All leading search engines such Google, Bing and Yahoo show particular search results, where web pages and other content such as videos or local listings are also shown. The search engines shows results according to algorithm & users point of views. SEO stands for "Search Engine Optimization." This is a method which contains strategies, techniques and tactics to increase the amount of visitors to a website.
Are you looking for a quick on page SEO check? Then you must avoid the following 5 on page SEO errors.
1.Overuse Of Keyword:
Naturally Overuse Of Keywords gives a terrible user experience, because most people aren't looking to find a site that just repeated particular words or phares .So, Google and other search engines considered Keyword stuffing as black-hat tactic.
2.Incorrect Image Alt Tags:
The term "ALT tag" is simply shorthand term used to refer to the ALT attribute within in the IMG tag. For any image on your site, the alt tag should describe what's on it. Google sets a quite high value on alt texts to check what is on the image but also to determine the topic of surrounding text.
If proper alt tags are not used in images, images will not get google ranking. Therefore, website traffic will affected.
3.Using Duplicate Content:
"Duplicate Content" i.e. the content that is presented on your site that is not unique.In their article on duplicate content, Google specifically says:
"Duplicate content on a site is not grounds for action on that site unless it appears that the intent of the duplicate content is to be deceptive and manipulate search engine results."
Google may take action against your site.
4.Slow site loading speed:
Site speed can be described in either "page load time" (the time it takes to fully display the content on a specific page) or "time to first byte" (how long it takes for your browser to receive the first byte of information from the web server). No matter how you measure it, a faster page speed is better.
5.Not using SEO-friendly URLs:
Latest google algorithem stated that SEO-friendly URLs are very important for search engine ranking.URLs should be clean & devoide of underscore other symbols.