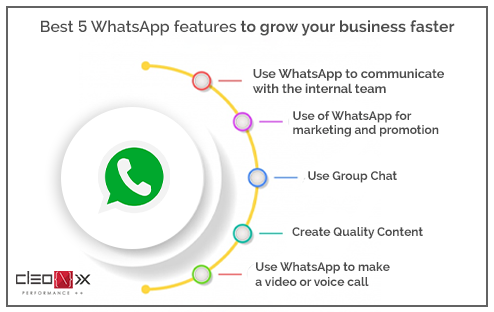 What does the WhatsApp mean?
WhatsApp is a free mobile app that utilizes the internet connection of your phone to allow you to chat with other users of WhatsApp without fees for SMS text messages. The app also allows files and pictures to be shared and promotes free voice and video calls.
Supporting a broad variety of phones has made it particularly popular in regions with elevated SMS fees, including Brazil, Mexico, and Malaysia — where 60% of the population is using WhatsApp. In reality, in 109 nations, it is the most common option to SMS or 55.6% of the globe.
WhatsApp, the Facebook-acquired social messaging service for $19bn in 2014, is probably the fastest-growing communication app in the world. As in January 2015, half a billion individuals were regular, active WhatsApp users around the globe. More than 700 million pictures and 100 million videos are shared by these customers every day.
Let's look at the 5 tips to implement WhatsApp in your business.
WhatsApp marketing strategies and tips:
Since WhatsApp does not sell ad room or have (yet) any business-specific characteristics, your marketing strategy must be innovative.
1) Use WhatsApp to communicate with the internal team:
The best thing about WhatsApp is that it is used by almost everyone and no preparation is required. Another advantage is that I don't have to ask the team to verify WhatsApp explicitly because they're hooked to it anyway.
On WhatsApp, you can form Sales & Development team groups and share immediate emails that do not require an email. It's quick and enjoyable to use.
2) Use of WhatsApp for marketing and promotion:
You should generate lists linked to particular subjects or sections of the public. Once the lists are ready, just as you do on Twitter, you can submit one-way communications that are specifically tailored to boost commitment.
You can include in your emails offers, connections or invitations. For instance, if you have an event or launch that will interest your audience, the way to go is to broadcast lists.
3) Use Group Chat:
Group messages are shared with group members and include group participant reactions as well. This is useful when you need to perform focus groups or market research before a product or service is launched.
The group characteristic is also the best way to give particular client groups exclusivity. It's also a way to encourage your clients to communicate and maybe introduce other current clients to attempt a fresh service or product they've never attempted before.
WhatsApp group chat offers advantages for both you and your client: your clients can communicate readily with each other and you can readily relate to a global audience. You can get feedback immediately.
4) Create Quality Content:
Yes, on WhatsApp as well. Just as quality content is important for your site, it is also important for WhatsApp messaging. Your messages need to be short and powerful in WhatsApp. Your style and word choices should resonate with your audience or you risk seeing very little engagement. Keep it easy, engage and concentrate on your customers ' advantages.
5) Use WhatsApp to make a video or voice call:
WhatsApp is not just for instant messages, you can also use it to make video and voice calls. Doesn't have time to write a long answer or can't be bothered with it? There's no issue. WhatsApp enables you to send voice messages to your contacts, which is fantastic if, for instance, you walk somewhere, causing a bit of pain to be typed constantly.
WhatsApp is a strong instrument for communication. Because of its simplicity, it has become commonly popular. You can use WhatsApp for your company in different respects besides using it for private communication. It's cost-effective and you can rapidly get began.
In your business, do you use WhatsApp? In the remarks below, please share your tale.