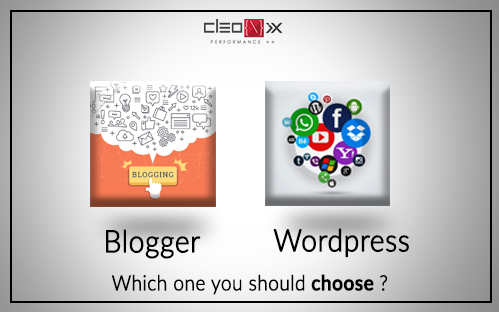 Blogger.com or Blogspot and WordPress are the two most widely used blogging platforms today. Blogger.com was the first blogging platform allowing users to set up accounts and create a blog for free. WordPress is also another successful blogging platform which is popular for their easy functionality. Most of the professional blogger like to use WordPress because it can be customized more easily.
Utilizing the Blogger setup mandates that your blog to be hosted on their servers. Whereas blogs running on WordPress' platform can be hosted on WordPress.com, or you can choose any other web hosting server.
Here are some of the interesting features of Blogger and WordPress that will help you to choose your desire blogging platform.
Blogspot Features
All the contents are maintained on Blogger.com web servers.
Free web hosting that up to 1 GB worth of space.
You can customize templates but in the limited extent.
Easy to set up for the beginners.
Can store image and video files.
WordPress Features
All the contents are maintained on WordPress.com web server.
Free web hosting up to 3GB worth of space.
Customizable templates available (limited extent).
User-friendly.
can store images, videos, and documents (limited extent).
WordPress Self-hosted Special Features
Almost unlimited power to choose and customize templates and widgets
Need some technical knowledge to setup and configure.
Files support limited only by the web server, which usually means virtually unlimited.
Flexibility
As WordPress is an open source application, it gives bloggers much more flexibility when it comes to customizing a blog. When you download and install WordPress, you will get full access to all the database and the PHP, CSS, and image files that comprise the WordPress blogging platform.
Although Blogger allows users to set up and to customize their blogs by adding Google gadgets and changing layouts, it has been found that there is a lot of assumptions required when trying to figure out how to manipulate their XML sitemap and schemas, which are used to customize templates beyond adding gadgets and changing layouts. So, it is true that you need to have some prerequisite knowledge to work on this platform.
Security
WordPress has had a history of prone to hacks. To minimize that risk, it is suggested that users of WordPress be extra careful about maintaining their sites. Specifically, WordPress blog owners hosting their own blogs are recommended to keep up with current updates.
Blogger users can easily allow the developer to customize their theme as this platform is quite secure. Because the blog content is kept on Blogger's servers, there are much fewer chances that Blogger sites can be hacked.
Which is suitable for you?
If your desire is simply to share your information with the world without hassling with heavy customization and continuing updates, Blogger.com is the best choice. Because most of the regular bloggers fit into this category.
If you have the resources and intend to be more professional in your blogging habits, WordPress is what you should use. Accessibility to the files and folders of WordPress allows it to be used for much more than just a simple online notebook.