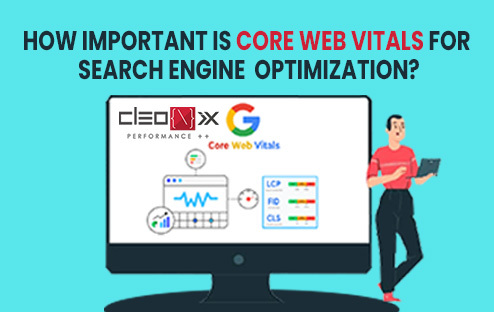 In the ever-evolving digital landscape, search engine optimization (SEO) has become a critical aspect of any successful online presence. With millions of websites vying for the top spot in search engine results, it's crucial to stay ahead of the game. One of the recent advancements that have significantly impacted SEO is the introduction of Core Web Vitals by Google. These metrics are designed to assess the user experience on websites and are now considered vital for improving search rankings. In this blog, we will explore what Core Web Vitals are, why they are important for SEO, and how businesses can optimize their websites to meet these requirements and stay competitive in the online world.
1. Understanding Core Web Vitals:
Core Web Vitals are a set of user-centric metrics introduced by Google to measure the overall performance and user experience of websites. They focus on three key aspects:
1.1. Largest Contentful Paint (LCP): This metric measures the time it takes for the main content of a page to load. Ideally, it should occur within the first 2.5 seconds after the page starts loading. A fast LCP ensures that users can access the most crucial information quickly, leading to better user experience and satisfaction.
1.2. First Input Delay (FID): FID measures the responsiveness of a website by evaluating the time it takes for a page to become interactive. Users should be able to interact with the page within 100 milliseconds to have a smooth and seamless browsing experience.
1.3. Cumulative Layout Shift (CLS): CLS gauges the visual stability of a page by assessing the unexpected layout shifts during loading. A good CLS score ensures that elements on a page do not move around unexpectedly, preventing accidental clicks and user frustration.
2. Why Core Web Vitals Matter for SEO:
Google, being the dominant search engine, is constantly striving to provide users with the best possible experience. To achieve this, Google uses a wide range of ranking factors, and Core Web Vitals have emerged as crucial components in determining a website's search ranking. Here's why Core Web Vitals matter for SEO:
2.1. User Experience is Paramount: Google's primary goal is to satisfy user intent. Websites that offer a seamless and positive user experience are more likely to rank higher in search results. Core Web Vitals provide a standardized way to assess user experience across websites, leading to better rankings for those that prioritize their visitors.
2.2. Mobile-First Indexing: With the majority of internet users now browsing on mobile devices, Google has shifted to mobile-first indexing. This means that Google uses the mobile version of a website for indexing and ranking. Core Web Vitals are even more critical for mobile SEO as they directly impact mobile user experience.
2.3. Page Experience Update: In May 2021, Google rolled out a significant algorithm update called the "Page Experience Update." This update incorporated Core Web Vitals as ranking signals, underscoring their importance for SEO. Websites that meet the Core Web Vitals thresholds are more likely to gain a competitive edge in search rankings.
3. Optimizing for Core Web Vitals: Given the significance of Core Web Vitals for SEO, website owners and SEO professionals must optimize their sites accordingly. Here are some strategies to improve Core Web Vitals scores:
3.1. Optimize Page Speed: To improve LCP and FID scores, focus on optimizing your website's loading speed. Compress images, leverage browser caching, and use a content delivery network (CDN) to reduce server response times.
3.2. Prioritize Above-the-Fold Content: Ensure that critical above-the-fold content loads quickly, providing users with essential information as soon as possible.
3.3. Minimize JavaScript Execution: Reducing unnecessary JavaScript execution can significantly impact FID, as complex scripts may delay interactivity. Consider lazy loading for non-essential scripts.
3.4. Ensure Visual Stability: Prevent unexpected layout shifts by specifying dimensions for images and other media elements. This will improve your CLS score.
3.5. Mobile Optimization: Given the prominence of mobile users, prioritize mobile optimization to meet Core Web Vitals on mobile devices.
Conclusion:
In the competitive world of online business, staying ahead of the curve in SEO is vital for success. Core Web Vitals, introduced by Google to evaluate user experience, have become an integral part of the search ranking algorithm. Websites that prioritize speed, responsiveness, and visual stability will reap the rewards of higher search rankings and increased user satisfaction. Embracing Core Web Vitals as a central aspect of your SEO strategy will not only help your website thrive but also demonstrate your commitment to delivering the best possible user experience. So, don't overlook the importance of Core Web Vitals – optimize your website today and pave the way for better search engine visibility and improved user engagement.
ALSO READ: Top 11 Game-Changing SEO Trends That Will Dominate in 2023