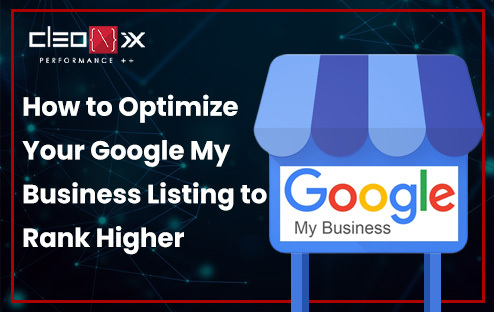 In today's digital age, having a strong online presence is crucial for the success of any business. And when it comes to local search, Google My Business (GMB) is a powerful tool that can significantly impact your visibility and attract potential customers. By optimizing your GMB listing, you can improve your chances of ranking higher in local search results, increasing your online visibility, and ultimately driving more traffic to your business. In this article, we will explore effective strategies to optimize your Google My Business listing and enhance your chances of ranking higher.
Claim and Verify Your GMB Listing: The first step towards optimizing your GMB listing is to claim and verify it. Visit the Google My Business website, create an account if you don't have one, and follow the steps to claim your business. Verification can be done via mail, phone, email, or instant verification (available for select businesses). Once verified, you'll gain access to a range of features and options to enhance your listing.
Complete Your Business Information: To rank higher in local search results, provide Google with as much accurate and detailed information as possible. Fill out all the fields in your GMB profile, including your business name, address, phone number, website URL, category, hours of operation, and a brief description. Make sure the information is consistent across all online platforms.
Choose the Right Categories: Selecting the appropriate categories for your business is crucial. Be specific and choose categories that accurately represent your products or services. This helps Google understand your business and display it in relevant search results. You can select a primary category and add secondary categories if applicable.
Optimize Your Business Description: Craft a compelling business description that effectively communicates your unique selling points and key offerings. Keep it concise, engaging, and keyword-rich. Incorporate relevant keywords naturally without keyword stuffing, as this can have a negative impact on your ranking.
Add High-Quality Photos: Visual content plays a vital role in attracting potential customers. Include high-quality photos that showcase your business, products, and services. This can significantly impact user engagement and help differentiate your business from competitors. Upload appealing images of your storefront, interior, team, products, and any other relevant visuals that represent your brand effectively.
Encourage Positive Reviews: Online reviews are an essential aspect of your GMB listing. Positive reviews not only boost your credibility but also contribute to higher rankings. Encourage satisfied customers to leave reviews on your GMB profile. Respond to reviews, both positive and negative, to show your engagement and willingness to address customer concerns.
Maintain Consistent NAP Information: NAP stands for Name, Address, and Phone Number. Consistency is key when it comes to your NAP information. Ensure that your business name, address, and phone number are accurate and consistent across your GMB listing, website, social media profiles, and other directories. Inconsistent information can confuse both users and search engines, negatively impacting your ranking.
Leverage Google Posts: Google Posts allow you to share timely updates, offers, events, or any other relevant content directly on your GMB listing. Take advantage of this feature to engage with your audience and provide them with valuable information. Regularly posting fresh content can help improve your visibility and drive more traffic to your business.
Utilize Google Questions & Answers: The Questions & Answers section on your GMB listing enables potential customers to ask questions about your business, products, or services. Monitor this section and respond promptly to provide accurate information. By being proactive and addressing inquiries, you can build trust and establish yourself as an authority in your industry.
Monitor Insights and Analytics: Google provides valuable insights and analytics for your GMB listing. Pay attention to these metrics to understand user behavior, search queries, and how people are finding and engaging with your business. This data can help you make informed decisions and further optimize your listing for better results.
Conclusion:
Optimizing your Google My Business listing is a powerful way to boost your online visibility and attract more local customers. By following the strategies outlined in this article, you can improve your chances of ranking higher in local search results. Remember to regularly update and maintain your listing, respond to reviews and inquiries, and provide accurate information. By leveraging the full potential of Google My Business, you can take a significant step towards growing your business in the digital landscape.
ALSO READ: What is Social Bookmarking and How does it work for SEO?