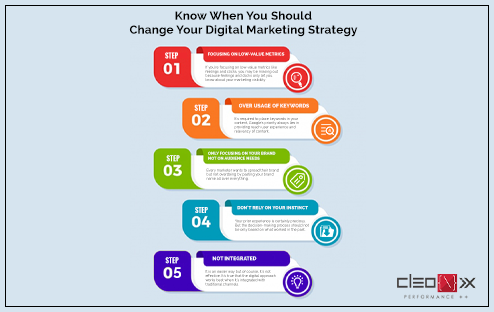 Digital marketing refers to advertising delivered through digital channels such as search engines, websites, social media, email, and mobile apps. You should know when you have to change your digital marketing strategy. Here we will discuss the 5 signs to help you decide when to quit your existing strategy.
1. Focusing on low-value metrics:
If you're focusing on low-value metrics like feelings and clicks, you may be missing out because feelings and clicks only let you know about your marketing visibility. And not the real truth of your strategies.
2. Over usage of keywords:
It's required to place keywords in your content, Google's priority always lies in providing reach user experience and relevancy of content. Google can do nothing with how many times your site shows the keyword like "Digital Marketing Strategy."
3. Only focusing on your brand, not on audience needs:
Every marketer wants to spread its brand but not overdo by pasting your brand name all over everything. Actually, you need to make your content educational that focus on your audience problems and needs. This would really help you in targeting buyers in the initial stages of the buyer's journey.
4. Don't rely on your instinct:
Your prior experience is certainly precious. But the decision-making process should not be only based on what worked in the past. It's a really bad idea as what worked tomorrow may be totally inapplicable today. Therefore directing your marketing strategy through objective data will only get you better results.
5. Not integrated:
It is an easier way but of course, it's not effective. It's true that the digital approach works best when it's integrated with traditional channels.
"Cleonix Technologies" is a Kolkata based Web development & hosting provider company specializing in Website Design, Graphic Design, Web Development, Digital Marketing, Search Engine Optimization. For digital marketing services contact us.