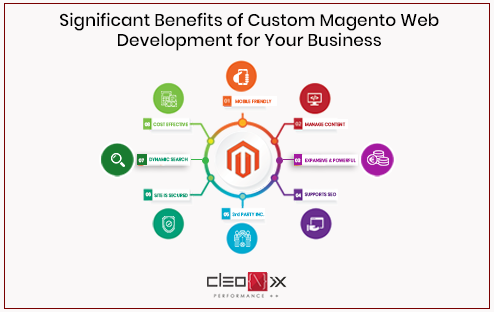 The market is becoming agile day by day and the choices and preferences of the customers are changing rapidly. Therefore, there is strong competition between businesses to attract more customers. If you want to stand out among all, you need to improve your marketing skills and strategies. For this, your services must be convenient and acceptable to the customers and must reach quickly to them. This can be achieved if you go for your e-commerce website with custom Magento web development as with Magento you get the facilities like fast browsing. Such facilities help users in making the decision to purchase. Custom Magento offers numerous benefits apart from this. Let's have a look at those benefits in details.
Mobile friendly- Today, the world is conquered by smartphones and people search whatever they want on their phones. So, your website needs to be highly responsive. The e-commerce websites developed with custom Magento are extremely responsive and hence can be viewed on smartphones and tablets without much hassle. This is beneficial for you as customers stay connected to your business from anywhere and at any time.
Manage content seamlessly- It is very easy for the e-commerce website owner to make the changes in the contents of the website if it is done by using custom Magento web development. Most of these websites come with inbuilt page editor, which helps the owner in making required changes. It is not necessary for the online store owner to have knowledge of programming. They can manage the content with the help of this editing tool. This means that you do not require calling the developer every time you want to make changes in the offerings.
Supports SEO- If you are an online store owner and have the website developed with Magento, you will never face problems like slow online traffic flow. The websites developed with this platform are search engine optimized. This means that the websites are developed in such a way that it appears on top of the search results in various search engines like Google. This platform also provides tailor-made processes and tools that are useful for successful search engine optimization.
Expansive and powerful- If you want to handle the huge online traffic at a time, your website needs to be robust enough to support many products and numerous orders. The websites built with custom Magento platform are capable of supporting lakhs of products at a time and managing thousands of orders per hour as they are expansive and powerful. This means that such websites have the ability to handle the growth of your business with the same efficiency. This also offers an enhanced user experience and a satisfied customer always returns back to you for the next order.
Enable third-party incorporation- Nowadays, people love to shop on various e-commerce websites in combination with platforms like PayPal, Google Shopping and many others. So, your website must enable them to do so. If custom Magento web development is used for building your website, then it gives wonderful shopping experience to the customers by facilitating the third party incorporation. This also helps you in having control over the data analysis and make well-versed business decisions as an online store owner.
Your site is secured- If your e-commerce website is built with the help of a custom Magento platform, you can be assured of the security of the site. It not only safeguards your site from various security threats but also administers internal access by means of multi-level security authorization. It provides your website with additional security features to keep it safe from undesirable breaches.
Dynamic search features- The websites powered by custom Magento enhance the user experience by providing intelligent and dynamic search features. These features categorize the products or services based on multiple parameters. This helps the customers to reach out to the desired product easily.
Cost effective- The cost of developing and setting up the website with the help of this platform is very low. You just need to pay for hosting subscription, template design, and extension.
Making use of custom Magento platform for the development of an e-commerce website is very much beneficial for both the owner as well as the customer. It plays a vital role in product management, enhanced and safe shopping experience, third-party integration and many other factors which work towards the growth of the business.