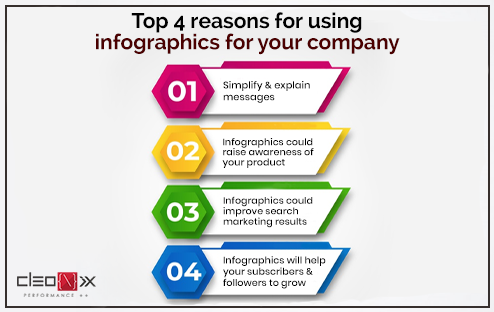 Infographics (data graphics) are graphic graphical representations of facts, data or expertise intended for the rapid and transparent presentation of information. Infographics include bar charts, pie charts, histograms, line charts, tree charts, mind maps, Gantt charts, and diagrams of the network. Infographics are important because they contribute to sharing and communicating ideas in an easy-to-read format that virtually everyone can understand. The top five reasons why you should use infographics for your business are discussed here.
1) Simplify & explain messages:
Human beings are visual creatures, and visual elements that draw their attention are easily attracted by these people. When words fail to catch your readers ' attention and imagination, then perhaps visual elements such as Infographics can do the job better. If paired with well-written text, Infographics can be a powerful tool to help you slice your content through the information jungle and into the minds of your target audiences. Obviously, humans love statistics, figures, charts, and other graphic elements and the data in your infographics can really catch their attention if it is convincing enough.
2) Infographics could raise awareness of your product:
Infographics are meant to include specific creator data that usually includes the logo, website address, email or even contact information. This is really a very successful way to raise awareness of your product and can easily increase your traffic if used properly.
3) Infographics could improve search marketing results:
The highly beneficial effect these events can bring to a particular business when Infographics go viral better results from search marketing. Not only are infographics built with your contact information, but it can also create valuable backlinks to you by sharing or embedding the material on social media or other online platforms.
4) Infographics will help your subscribers and followers to grow:
Simply take a quick look at your Facebook newsfeeds and walls to witness the power of visual content. Note that interesting pictures generate more likes, comments, and shares than any ordinary text updates, and this includes well-created infographics. This can be a very successful way to generate more subscribers and fans on your social media pages, reaching an even wider audience each time you post your infographic.
The secret to digital success is to draw your targeted customers' attention and interest in this highly competitive and information-flooded global marketplace and environment. Using Infographics is an easy way to work with visual elements that are not only important, informative and instructional, but also visually appealing and pleasant to look at.