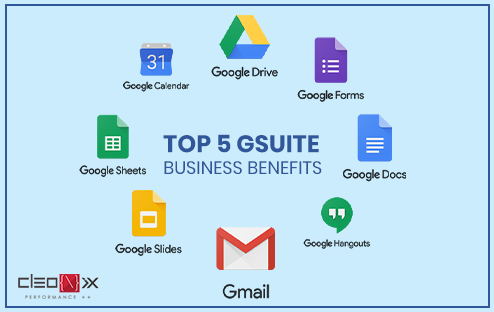 Google is one of the many companies that offer free tools and services, such as Gmail, Google Analytics, and Google Docs. G Suite, Google's smart app suite. This used to be known as Google Apps until it was re-branded at the end of 2016. This is where the GSuite Enterprise Edition for Google comes in handy.
G Suite will help you manage your company more efficiently, improve your workflow and improve your employee interaction. We will cover some of Gsuite's benefits in this post to help you learn more about it.
1.Savings in the cost:
G Suite provides a collection of well-known applications like Gmail, Docs, Drive, and Calendar. The suite comes with apps that allow you and your team to work simultaneously on the same documents.
There is also an interactive chat platform that can be used to communicate and share ideas with you and your team. You can get all these apps for free, but with the paid service, you get more features. The efficacy has already been acknowledged by more than 3 million businesses.
G Suite can not beat for large-scale workplace organization for businesses on a budget. Moreover, conversion from an office server to G Suite eliminates expensive work orders and interruptions.
You may like: 5 Modern Web Forms Protection Solutions from Spam
2.Efficient coordination between teams:
The collection of smart applications from G Suite allows you and your team members to work together seamlessly on papers. You can see the edits you're making in real-time and G Suite saves them in the cloud automatically.
You may offer all members of the team or just a selected few editing capabilities. When the employees are working on the papers, the built-in chat feature can be used. The technique of teamwork thus helps to develop a project's speed and accuracy.
3.Data Security:
With Google Drive, you can safely store, access and share your files from any drive. To keep your data safe, G suite for business stores information in Google Data Centers. Besides, if the servers fail, you won't lose your data, and all the information will remain in the cloud.
Besides, from G Suite, you have access to the devices of your employees. While G Business Suite provides the best level of security, it should be avoided via public Wi-Fi.
4.Google Vault:
Vault allows you to keep track of G suite items for corporate data like Gmail, Google Drive, Team and Group Chat and Hangouts. As it is the business part of G Suite, it is included in the pricing plans of the G Suite.
5.Easier Organization:
You can easily arrange meetings, plan tasks, record deadlines, and schedule appointments with the help of Google Calendar. Google Calendar is a centralized calendar that can be viewed, edited and shared by the entire company to set deadlines, meetings and project milestones. Through features such as color-coding to indicate changes and activity notifications sent directly to email, everyone can easily stay on track. The calendar is integrated with Gmail, allowing you to schedule events right in the inbox.
Through apps such as color-coding to indicate changes and activity notifications sent directly to email, everyone can easily stay on track. Gmail's unified calendar helps you to arrange events right in the inbox.
GSuite offers some of the best tools for teamwork, management, and security, whether you're a new business or a big business. Take the time to analyze your business needs and decide which edition best suits your business. In the comment section below, let's share your thoughts with us!