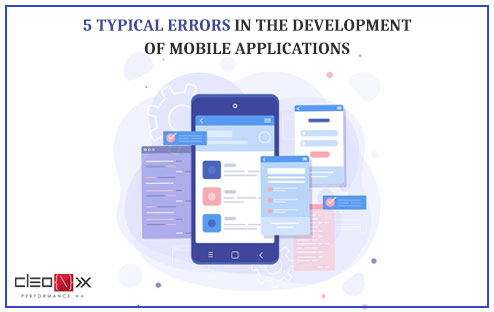 Mobile apps are software programs designed for smartphones and tablets for mobile devices. They turn mobile devices into functional and fun miniature powerhouses. Many smartphones come preloaded with some of their manufacturers ' mobile apps and their related mobile service providers (e.g. Verizon, AT& T, T-Mobile, etc.) but there are many more apps available through device-specific app stores. Most mobile apps include programs to run on desktop computers. Nevertheless, mobile apps need to work with different limitations than their desktop counterparts. Mobile devices have a wide variety of screen sizes, memory capabilities, processor capabilities, graphical interfaces, buttons, and touch functions, and developers have to accommodate all of them. Here we will discuss the five most common errors made in the development of mobile applications.
1. Is the app meeting the expectations of the user?
It's not an easy task to attract new visitors to your app every day. Every single user has a different set of expectations. The first interaction of an app with the visitor is the most important stage that should be taken care of. It is an extremely bad idea to initially hold long registration forms with animated splash screens as well as various elements blocking the relevant content.
Get a standard sign-in / register procedure in place demanding name and email address only. In addition, try to integrate social media login so that users can sign in directly through their social media profiles.
You may like: Benefits Of Having Mobile Application For Your Business
2. Do you have too many platforms to develop?
After all the platforms, one of the biggest mistakes committed by brands is going on at once. Clearly, by having their presence on each platform, they want to make the most of it. You need to decide on the platform you want to go for. The platform has its own pros and cons, whether it's Android, iOS, or Windows. Android currently has the most apps followed by iOS. While selecting the forum, you also need to remember the target audience.
3. Improper projections of the deadline and the budget:
The planner must carefully study the plan and scrutinize all the details in order to make the correct estimation and determine deadlines. It takes time for that approach. If you insist on immediate project evaluation, don't be surprised when the budget and deadlines will be tripled in the app development process. It should be taken for granted that a quality product will always take a long time to develop.
4. Unnecessary characteristics:
It's good to understand the intent and meaning of the app clearly and avoid burdening users with the need for complex functions. This is one of the most common errors when ordering "all-inclusive" apps: they are heavy, pricey, and awkward.
5. Is your app being checked enough?
This may be called a stupid mistake, but it's very common. It is imperative to test your app before it is released. More than 1,000 apps are released every day to make the competition tough. What's more, the last thing you'd want is to miss your app while you're launching.
If you have any issues with the creation of mobile apps, please contact us. We, Cleonix Technologies, are a web development company specialized in all web development and digital marketing strategies in Kolkata. To produce an amazing outcome, we collaborate with companies of all shapes and sizes. If you think it's time for your company to stand out from the crowd, we can help you get started!