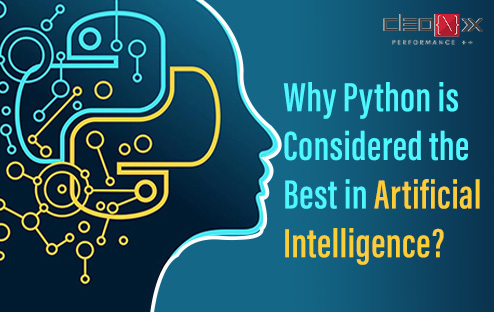 With the emergence of virtual assistants like 'Siri', 'Alexa', 'Google Assistant' and many more, we can surely say that we are in the age of Artificial Intelligence and machine learning. Every tech giant, all around the world, is racing to achieve it but it is not an easy task. Hours and hours of coding goes behind into making an AI do even the simplest of task. There are many programming languages available in the tech market which help developers to do their work among which the most popular is Python.
Python is a general purpose, high level, interpreted programming language developed by Guido van Rossum. It is the successor of ABC programming language and was first released in the year 1991. Python supports multiple programming paradigms which includes structured, object-oriented and functional programming. It is dynamically-typed and garbage-collected. In this blog, we discuss some of the features and reasons which makes Python the best for Artificial Intelligence.
Simple & Consistent
Developing AI requires solving complex algorithms. Pythons helps developers to easily solve those. It is easy to learn which is why Python is the first choice of many developers. Python is also very intuitive compared to the other programming languages and helps greatly when many developers are working on the same code. The simple environment of Python helps developers to focus on solving the AI problems rather than the technicalities of programming languages which also helps to reduce the overall time required to do the work.
Extensive Library
In the programming world, libraries is referred to the collection of pre-compiled codes that the users/developers can use to optimise their tasks. One of the best feature of Python which makes it perfect for developing AI is that Python has a large collection of libraries specially built for the purpose of AI which includes NumPy, Pytorch, Keras, Scikit-learn, Pandas, TensorFlow, Theano, and many more. This means that when you need to run an algorithm, all you have to do is install and run one of these libraries according to your needs and your work will be done in an instant.
Flexibility
As mentioned earlier, Python is a dynamically typed programming language which makes it incredibly flexible. It allows user to choose between OOPS approach and scripting. There is no hard and fast rule on how to approach and build a feature using Python. The flexibility of Python allows users to choose from the different programming styles , mainly :
• Imperative Style – It is a basic style of programming with commands that tells how a computer should interpret the given commands.
• Object-oriented Style – This style of programming follows the concept of object and class.
• Functional/Declarative Style – In this style of programming, information is declared about the sequence of performing operations.
• Procedural Style – Under this style, developers follow a step by step format which helps different aspect like iteration, selection, modularisation and sequencing.
Platform Independent
Another feature that makes Python popular is platform independence. This means Python can be executed on any framework and is compatible with all the major platforms like Unix, Linux, Windows, Mac-OS and more. As such, Python can be used to make independent applications on the various platforms and these applications can be effective and utilised on different frameworks without requiring a Python translator. This way, Python also help to save a lot of time and effort.
Great Visualization
We have already discussed that Python has a great collection of library and some of these libraries are also the perfect choices for visualisations. In AI development, it is very important for developers to represent information accurately and in a manner where it is easily readable. Libraries like Matplotlib help data scientist to access histograms, graphs, charts, and plots which can be used for better representation and demonstration of data and information ensuring accurate reports.
Artificial intelligence is constantly evolving with technological advancement and we need to go with flow. With the simplicity that Python provides and it's extensive libraries, Python has become a favourite among the AI developers as it increases their work accuracy and cuts short the overall time. Considering the features and popularity, it can be said that Python is best for AI development.
Also Read:- Business benefits of Laravel development services